Grilled Rib-Eyes with Lancashire Crumble
Autumn 2014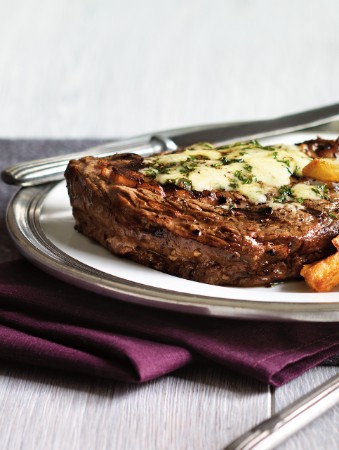 Grilled Rib-Eyes with Lancashire Crumble
Autumn 2014
BY: Julia Aitken
Lancashire is a salty, crumbly cheese from England's north. Since the cheese melts well, it makes a lovely last-minute garnish for juicy steaks.
4 thick rib-eye steaks, 8 oz (250 g) each
2 tbsp (30 mL) olive oil
2 tbsp (30 mL) Worcestershire sauce
2 tsp (10 mL) minced garlic
2 tsp (10 mL) freshly ground black pepper, divided
Kosher salt
1 cup (250 mL) finely crumbled Lancashire cheese, about 4 oz (125 g)
2 tbsp (30 mL) finely chopped fresh chives
Whole chives for garnish, optional
1 Pat steaks dry on paper towels.

2 In a small bowl, stir together oil, Worcestershire sauce, garlic and 1 tsp (5 mL) pepper. Rub mixture all over steaks. Let stand at room temperature for 30 minutes.

3 Preheat barbecue to medium-high.

4 Season steaks with salt to taste. Grill steaks, with lid closed, turning once, until done to taste, 3 to 4 minutes on each side for medium-rare.

5 Meanwhile, in a small bowl, stir together cheese, chives and remaining pepper.

6 Remove steaks from grill. Sprinkle evenly with cheese mixture. Cover steak loosely with foil and let stand for 5 minutes.

7 Serve garnished with whole chives, if desired.
SHARE