Grilled Radishes with Caviar Butter
Summer 2017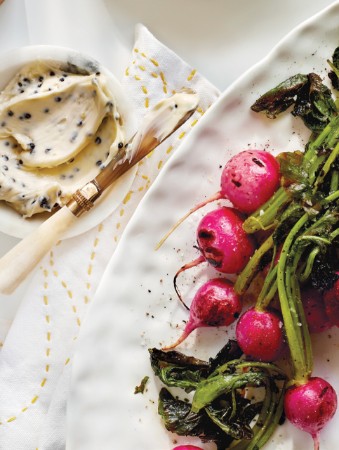 Grilled Radishes with Caviar Butter
Summer 2017
BY: Victoria Walsh
Barbecuing radishes imparts a subtle smoky flavour and softens them slightly. Dipping fresh radishes in butter with salt is a traditional way to serve them. In this recipe, the caviar acts as the salty factor but with an intense depth of flavour, making this an excellent pairing dish for a vodka-tasting party.
½ cup (125 mL) good-quality unsalted butter, at room temperature
½ oz (15 g) Ocean Wise sustainable caviar such as upscale Canadian sturgeon or inexpensive salmon roe
3 bunches of radishes, preferably with their tops
2 tbsp (30 mL) extra virgin olive oil
¼ tsp (1 mL) each Maldon salt and freshly ground black pepper
1. Using a wooden or porcelain spoon, stir butter with caviar in a small serving bowl. Refrigerate while preparing radishes.

2. Preheat barbecue to medium-high.

3. Thoroughly wash radishes and their leafy green tops, scrubbing and scraping around where radishes meet their leafy tops. Pat dry. Place in a large bowl. Drizzle with oil. Sprinkle with salt and pepper. Toss to coat, rubbing oil into leafy greens and all over radishes.

4. Barbecue radishes until grill marks form and tops crisp (like kale chips), 6 to 8 minutes. Remove to a serving platter. Serve alongside butter for dipping. If using a spoon or knife for serving, be sure to use ones made from mother-of-pearl, bone, wood or porcelain so as not to taint the flavour of the caviar.
SHARE