Grilled Radicchio Wedge with Orange Poppy-Seed Dressing
Spring 2019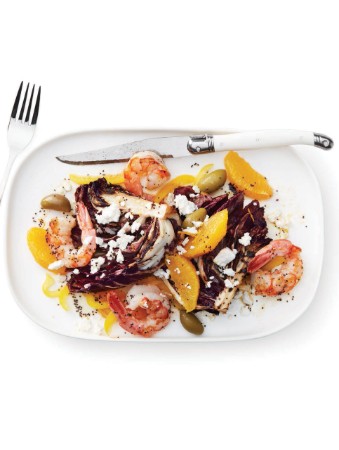 Grilled Radicchio Wedge with Orange Poppy-Seed Dressing
Spring 2019
BY: Jennifer MacKenzie
Radicchio can be fairly bitter, but grilling until lightly charred and tender does mellow out the bitterness considerably. The sweet-tangy orange dressing and optional sweet shrimp, along with zesty cheese and olives, make this an overall lively-tasting salad. Serve it as a starter or a light main course. If you're really not a fan of radicchio, try romaine hearts cut in half, instead (just grill the cut side for 2 to 3 minutes). For a more elegant presentation, cut the orange segments between the membranes to make "supremes."
ORANGE POPPY-SEED DRESSING
1 tsp (5 mL) grated orange zest
¼ cup (60 mL) fresh orange juice
2 tbsp (30 mL) white wine vinegar
1 tsp (5 mL) honey
1 tsp (5 mL) Dijon mustard
1 tbsp (15 mL) poppy seeds
Salt and freshly ground pepper
½ cup (125 mL) sunflower or canola oil

SALAD
2 large heads radicchio
8 oz (225 g) large shrimp, peeled and deveined (optional)
1 small sweet yellow pepper, julienned
1 orange, cut into segments
½ cup (125 mL) crumbled feta or blue cheese
¼ cup (60 mL) small green olives
Salt and freshly ground pepper
1 For the dressing, whisk together orange zest, orange juice, vinegar, honey, mustard, poppy seeds, ¼ tsp (1 mL) salt and pepper to taste. Gradually whisk in oil until blended. Season to taste with salt and pepper. Use immediately or cover and refrigerate for up to 3 days.

2 For the salad, preheat barbecue grill to medium-high. Heat a grilling basket or grilling sheet (see TIP) for shrimp, if using.
3 Trim stems from radicchio and peel off  loose outer leaves. Cut heads vertically into quarters. Brush all over with about 2 tbsp (30 mL) of the dressing.

4 Toss shrimp with 1 tbsp (15 mL) of the dressing in a bowl.

5 Grill radicchio wedges, turning to cook all sides, for about 6 minutes or until grill-marked and tender. Grill shrimp in basket or on sheet, turning once, for about 2 minutes or until just pink and opaque. Transfer to separate plates.

6 To assemble, arrange 2 radicchio wedges on each serving plate with the point up. Pour about half of the remaining dressing over wedges. Top with shrimp, yellow pepper, orange segments, feta cheese and olives and drizzle with more dressing to taste. Season with salt and freshly ground pepper. Serve immediately.

TIP: A grilling basket or a reusable grill-ing sheet (such as Cookina brand) prevents shrimp from sticking or falling through the grill. If you don't have one, thread shrimp onto soaked skewers and grease grill well.
SHARE