Grilled Moroccan Lamb
Été 2012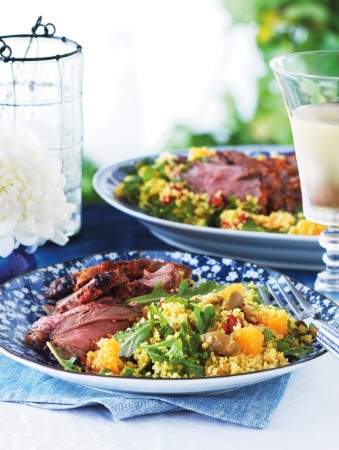 Grilled Moroccan Lamb
Été 2012
BY: Julia Aitken
Harissa paste—a combo of hot chilies, garlic, cumin and coriander, among other pungent flavours—gives this North African-inspired lamb an authentic kick. Look for it in the international section of your supermarket, or in specialty grocery stores.
1 boneless butterflied leg of lamb, about 3 lbs (1.5 kg)
1 lemon
1 small onion, coarsely chopped
4 cloves garlic, coarsely chopped
2 tbsp (30 mL) olive oil
2 tbsp (30 mL) honey
2 tsp (10 mL) each sweet smoked paprika and ground cumin
2 tsp (10 mL) harissa paste
1 tsp (5 mL) each ground ginger and cinnamon
½ tsp (2 mL) freshly ground black pepper
Kosher salt to taste
Saffron Couscous Salad (recipe follows)
Fresh mint leaves for garnish (optional) 
1 Remove any string from lamb, if necessary. Spread lamb out, fat-side down, on a cutting board. Slice diagonally through any thicker parts of lamb leg to even out the thickness (do not cut through the fat side). Put lamb in a large shallow dish.

2 Finely grate zest and squeeze juice from lemon. In a food processor, combine lemon zest and juice, onion, garlic, olive oil, honey, paprika, cumin, harissa paste, ginger, cinnamon and black pepper. Process until finely minced and well combined.
3 Rub mixture all over lamb, making sure to rub it well into the cuts you've made. Cover dish tightly, then refrigerate for 24 hours. 

4 One hour before cooking it, remove lamb from fridge.

5 Preheat barbecue to high, then switch off half the burners. 

6 Remove lamb from marinade, shaking off any excess. Sprinkle lamb on both sides with salt to taste.

7 Put lamb on hotter part of grill. Cook for about 6 minutes, turning once, until well marked with grill marks.

8 Move lamb to cooler part of grill. Cook for 15 to 20 minutes, turning once, for medium rare.

9 Remove lamb to a clean cutting board. Cover loosely with foil and let rest for 10 minutes.

10 Cut lamb crosswise into thin slices. Spread Saffron Couscous Salad out on a large platter. Arrange sliced lamb over salad. Scatter with mint leaves, if desired. Serve at once or at room temperature.



SAFFRON COUSCOUS SALAD

This easy couscous salad is bursting with fresh flavours and makes a colourful accompaniment to the grilled Moroccan lamb.

SALAD
2¼ cups (560 mL) chicken stock (approx.)
2 tbsp (30 mL) olive oil
¼ tsp (1 mL) crumbled saffron threads
1 pkg (340 g) couscous
2 large oranges
2 cups (500 mL) lightly packed washed and dried arugula leaves
1 cup (250 mL) cracked green olives
½ cup (125 mL) drained chopped roasted red pepper
1/3 cup (80 mL) finely chopped fresh mint leaves
Kosher salt and freshly ground black pepper to taste

DRESSING
¼ cup (60 mL) extra virgin olive oil
½ tsp (2 mL) honey
¼ tsp (1 mL) harissa paste
¼ tsp (1 mL) minced garlic
1 In a medium saucepan, bring chicken stock, olive oil and saffron threads to boil (you may have to adjust amount of chicken stock according to directions on couscous package). Add couscous and stir once. Remove saucepan from heat, cover and let stand for 5 minutes.

2 Fluff couscous with a fork and tip into a large bowl. Let cool to room temperature, tossing occasionally.

3 Finely grate ½ tsp (2 mL) zest from 1 orange. Set aside.

4 With a sharp knife, cut away all peel and white pith from both oranges. Holding each orange over a medium bowl to catch juice, cut the orange segments away from membranes. Squeeze membranes to extract remaining juice. Set juice aside and cut each orange segment in half crosswise.

5 Add orange segments to couscous, along with arugula, olives, roasted red pepper and mint. Toss gently.

6 For dressing, in a small bowl, whisk together reserved orange zest, 2 tbsp (30 mL) reserved orange juice, olive oil, honey, harissa and garlic.

7 Add dressing to couscous mixture and toss gently. Season with salt and pepper to taste.
SHARE