Grilled Mixed Mushrooms
Summer 2004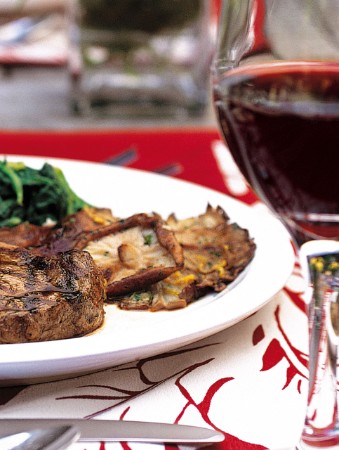 Grilled Mixed Mushrooms
Summer 2004
BY: Lucy Waverman
Use any kind of mushrooms for this great side dish. Grill mushrooms only until tender and juicy: over-grilling produces a dry mushroom.
8 shiitake mushrooms
8 oyster mushrooms
2 tbsp (25 mL) olive oil
Salt and freshly ground pepper
1 tbsp (15 mL) balsamic vinegar
1 tsp (5 mL) minced garlic
2 tsp (10 mL) grated lemon rind
2 tbsp (25 mL) finely chopped parsley
1. Remove stems from shiitake mushrooms and trim oyster mushrooms. Brush with olive oil. Season with salt and pepper. Place on grill and grill over high heat for about 3 minutes per side or until browned and sizzling.

2. Remove from grill and toss with balsamic vinegar, garlic, lemon rind and parsley. Season to taste. Serve with steaks.
SHARE