Grilled Mexican Corn
Été 2014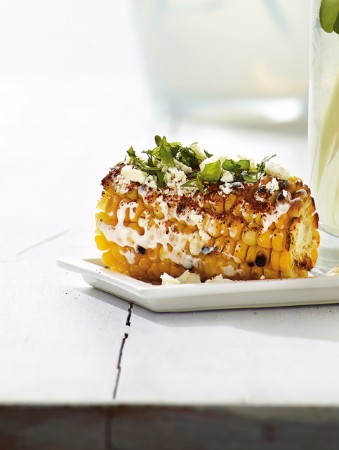 Grilled Mexican Corn
Été 2014
BY: Eshun Mott
Addictive grilled Mexican corn is usually slathered in mayonnaise before toppings are added. Cutting the mixture with Greek yogurt and lime cuts calories while adding a new level of flavour to the mix.
6 ears corn, shucked
3 tbsp (45 mL) mayonnaise
3 tbsp (45 mL) plain Greek yogurt
1 tbsp (15 mL) lime juice
1½ tsp (7 mL) finely chopped garlic
¼ tsp (1 mL) salt
⅓ cup (80 mL) crumbled Cotija or feta cheese
3 tbsp (45 mL) finely chopped coriander
1½ tsp (7 mL) chili powder
1 Heat barbecue on high heat.

2 Grill corn for 8 to 12 minutes, turning, or until corn is tender and browned in some spots.

3 Combine mayonnaise and yogurt in a small bowl, and whisk in lime juice, garlic and salt.

4 Transfer corn to a plate. Brush all over with mayonnaise mixture, sprinkle with cheese, coriander and chili powder and use a heavy knife to cut each ear into 3 pieces.
SHARE