Grilled Mediterranean Chicken, Melon and Feta Salad
Summer 2002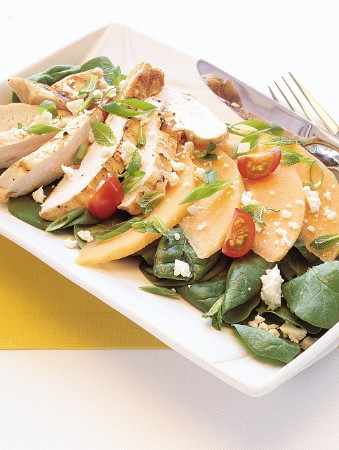 Grilled Mediterranean Chicken, Melon and Feta Salad
Summer 2002
BY: Heather Trim
The salty taste of the feta cheese in this Greek-inspired salad complements the sweetness of the cantaloupe.
1/3 cup (75 mL) lemon juice
1/2 tsp (2 mL) black pepper
2 garlic cloves, minced
2/3 cup (150 mL) olive oil
1/3 cup (75 mL) coarsely chopped mint
4 boneless, skinless chicken breasts
1/2 tsp (2 mL) salt
1/4 cantaloupe
8 cups (2 L) baby spinach leaves
4 cherry tomatoes, quartered
1/4 cup (50 mL) crumbled feta cheese
1 green onion, thinly sliced diagonally
1. In a large measuring cup, whisk lemon juice with pepper, garlic, 1/2 cup (125 mL) oil and 1/4 cup (50 mL) mint. Pour half into a resealable plastic bag. Add chicken to lemon juice mixture in bag, turning to evenly coat. Press air out of bag then seal tightly. Alternatively, place chicken in a shallow dish and pour in half the lemon juice mixture. Cover with plastic wrap. Marinate in the refrigerator, turning occasionally for at least 4 hours, but preferably overnight. To remaining lemon juice mixture, whisk in remaining 2 tbsp (25 mL) oil and salt. Refrigerate, covered, until ready to use.
2. Grease grill and preheat barbecue to medium. Remove chicken from marinade, discarding any that remains. Sprinkle both sides of chicken with salt, then place on grill and barbecue until juices run clear, about 6 minutes per side. Remove from barbecue and set aside.
3. Meanwhile, remove reserved dressing from fridge. Peel cantaloupe, discard seeds and cut into very thin wedges. Line 4 large salad plates with spinach. When chicken is cool, for each salad, slice each breast and fan onto spinach. Arrange cantaloupe on spinach. Sprinkle salads with cherry tomatoes, feta and green onion. Drizzle to taste with remaining dressing. Sprinkle with remaining 2 tbsp (25 mL) mint.
SHARE