Grilled Lamb T-Bones
Summer 2011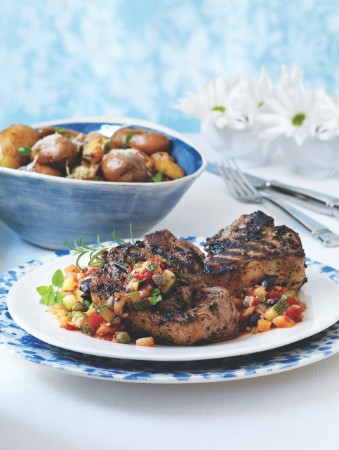 Grilled Lamb T-Bones
Summer 2011
BY: Lucy Waverman
A lamb T-bone is similar to a beef T-bone steak but smaller. Buy lamb loin chops with the tenderloin attached. Ask the butcher to cut them 2 inches (5-cm) thick. Serve 1 or 2 per person depending on appetite.
2 tsp (10 mL) honey
2 tsp (10 mL) finely chopped garlic
1 tsp (5 mL) grated lemon rind
2 tbsp (30 mL) chopped rosemary
2 tbsp (30 mL) chopped parsley
¼ cup (60 mL) olive oil
2 tbsp (30 mL) crushed peppercorns
8 lamb loin chops, 2 inches (5 cm) thick, trimmed
Salt to taste
1 Combine honey, garlic, grated lemon rind, rosemary, parsley, olive oil and peppercorns. Spread over lamb chops and let marinate for 1 to 2 hours.

2 Preheat grill to high.

3 Season lamb with salt, and grill with lid closed for 5 to 7 minutes a side, or until lamb is cooked to desired degree of doneness. Remove from grill and let rest for 5 minutes. Serve with Caponata and Grilled Italian Potatoes.
SHARE