Grilled Lamb Racks with a Herb Crust
Summer 2013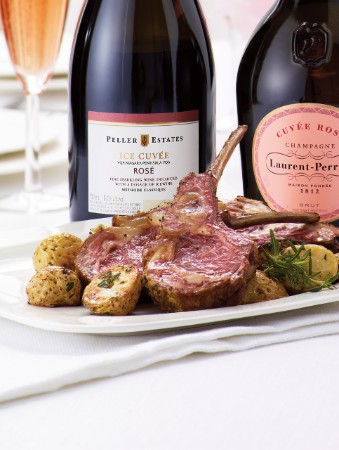 Grilled Lamb Racks with a Herb Crust
Summer 2013
BY: Julia Aitken
Herbes de Provence is a blend of herbs popular in southern French cooking—a typical combination may contain basil, lavender, marjoram, thyme and fennel seeds. Here, combined with fresh rosemary, it adds Mediterranean flavour to simple grilled lamb racks. Serve with Grilled Minted Potatoes (recipe follows).
¾ cup (175 mL) panko bread crumbs
3 tbsp (45 mL) olive oil
2 tbsp (30 mL) herbes de Provence
3 cloves garlic, minced
1 tbsp (15 mL) minced fresh rosemary leaves
1 tsp (5 mL) freshly ground black pepper
½ tsp (2 mL) kosher salt
3 frenched lamb racks, each 1½ lbs (750 g) and with 8 bones
3 tbsp (45 mL) smooth Dijon mustard
Rosemary sprigs for garnish
1 Preheat barbecue to medium.

2 In a medium bowl, stir together bread crumbs, olive oil, herbes de Provence, garlic, rosemary, pepper and salt. Spread out on a large shallow dish and set aside.

3 Pat lamb racks dry then put, fat-side down, on grill. Cook, with lid down, until golden, 3 to 5 minutes, reducing temperature if flare-ups occur. Remove lamb racks to a large plate and let cool slightly. Leave barbecue on.

4 Brush mustard evenly over fat side of each lamb rack. Holding 1 rack by its bones, carefully press mustardy side into bread-crumb mixture so it adheres evenly. Repeat with remaining racks. Sprinkle any remaining crumb mixture evenly over racks, pressing so that it adheres to mustard.

5 Return racks, bone-side down, to grill and cook over medium heat, with lid down, until a meat thermometer inserted into meaty part of rack registers about 130°F (55°C) for rare, about 15 minutes. Reduce heat or move racks to cooler part of grill if flare-ups occur.

6 Remove lamb racks to a cutting board, cover loosely with foil and let stand for 10 minutes. Cut lamb racks into individual chops and arrange on a warm serving platter. Garnish with rosemary sprigs.

GRILLED MINTED POTATOES

Toss halved mini-potatoes in olive oil and thread on metal skewers. Grill over medium heat for about 20 minutes, turning often, until tender, then remove from skewers and toss in more oil, plus salt, pepper and finely chopped mint.
SHARE