Grilled Jalapeño & Tomatillo Salsa Taco Salad
Été 2013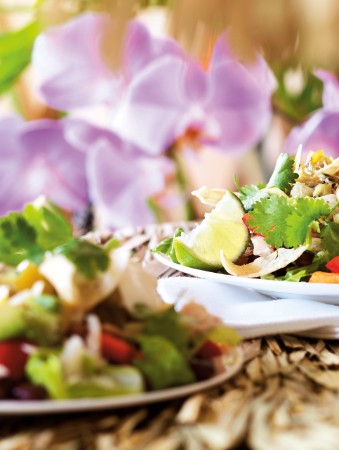 Grilled Jalapeño & Tomatillo Salsa Taco Salad
Été 2013
BY: Victoria Walsh
A classic taco salad doesn't need dressing since it relies on the incredible tastes of the toppings. This modern version gets lots of punchy flavour from a grilled jalapeño and tomatillo salsa. The heat of a jalapeño can range from mild to moderately hot. Taste the peppers to test their spiciness and add 1 for moderate heat, or 2 for even more.
5 large or 10 small tomatillos, papery skins removed
1 to 2 jalapeño peppers
1 tbsp (15 mL) vegetable oil, divided, plus more for grill
Pinch of salt
4 chicken thighs or 2 chicken breasts
1 tsp (5 mL) dried oregano
½ tsp (2 mL) salt and freshly ground black pepper
2 pinches ground cinnamon
3 green onions, trimmed
1 lime

SALAD
1 romaine heart, shredded
1 can (540 mL) black beans, drained
2 colourful sweet peppers, chopped
2 avocados, chopped
1 cup (250 mL) shredded aged white cheddar cheese
4 handfuls tortilla chips
¼ cup (60 mL) sour cream (optional)
Handful of fresh cilantro leaves (optional)
1 Preheat barbecue to medium-high.

2 Slice tomatillos in half. Brush tomatillos and jalapeño peppers all over with 1 tsp (5 mL) oil, then sprinkle with salt.

3 Drizzle chicken with 1 tsp (5 mL) oil. Season with oregano, salt, pepper and cinnamon.

4 Lightly oil grill. Add chicken. Barbecue, turning occasionally until cooked through, 14 to 16 minutes for chicken thighs and 18 to 22 minutes for chicken breasts. Barbecue tomatillos, jalapeño and green onions until lightly charred. This will take 10 to 14 minutes for tomatillos, 10 to 13 minutes for jalapeños, and 1 to 3 minutes for green onions. Remove each to a large cutting board as they're done.

5 Let chicken rest. When chicken is cool enough to handle, thinly slice or shred. When tomatillos, jalapeño and green onions are cool enough to handle, coarsely chop tomatillos and onions and finely chop jalapeño including seeds. Place in a medium bowl. Stir in remaining 1 tsp (5 mL) oil, 1 tsp (5 mL) juice from lime and salt. Taste and add more lime juice or salt, if you like.

6 Layer or arrange romaine, beans, sweet peppers, chicken, avocado and cheddar over plates. Dollop the centre of each salad with salsa. Scatter or arrange tortilla chips overtop. This dish is great topped with sour cream, cilantro leaves and a wedge of lime. Serve immediately.
Makes 4 main-course servings
SHARE