Grilled Italian Sausages with Caponata
Summer 2013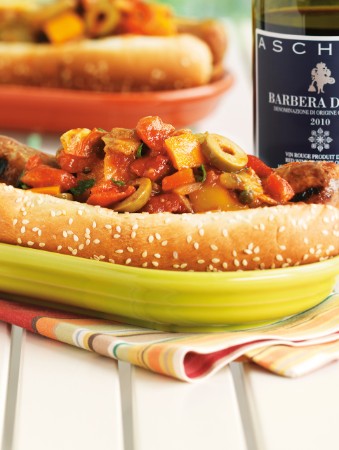 Grilled Italian Sausages with Caponata
Summer 2013
BY: Tonia Wilson-Vuksanovic
This recipe makes lots of caponata, but it has so many uses you will go through it quickly. Use as a condiment with cooked meats, on sandwiches, alongside some cheese and cold cuts. And it's also wonderful to receive as a hostess gift.
2 large eggplants, peeled and cut into 1 inch (2.5 cm) cubes
½ tsp (2 mL) salt, plus more for eggplant
½ cup (125 mL) olive oil
2 cups (500 mL) onion, coarsely chopped
1 cup (250 mL) celery, coarsely chopped
4 cups (1 L) red or orange pepper, coarsely chopped
2 tbsp (30 mL) tomato paste
¼ tsp (1 mL) chili flakes, or to taste
2 tbsp (30 mL) sugar
½ cup (125 mL) white wine vinegar
1 can (796 mL) diced tomatoes, with juices
¼ cup (60 mL) capers, drained
½ cup (125 mL) green olives, pitted and sliced
¼ cup (60 mL) fresh basil leaves, coarsely chopped
6 to 8 mild or hot Italian sausages
1 In a large bowl, toss together the eggplant cubes and 1 tbsp (15 mL) salt to coat. Let sit for 1 hour to allow eggplant to release excess liquid. Under cold water rinse salt off eggplant. Place cubes on a clean dish towel and pat dry.

2 In a large pot, heat olive oil over medium-high heat. Add eggplant and cook for 10 minutes or until golden. Turn off heat and remove eggplant with a slotted spoon, leaving as much oil behind as possible. Place eggplant in a bowl.

3 To the same pot add onion, celery and ½ tsp (2 mL) salt; cook for 3 minutes. Add peppers and continue to cook for 12 minutes.

4 Add tomato paste and chili flakes, stir and cook for 1 minute. Add sugar and vinegar and reduce for 3 minutes.

5 Stir in fried eggplant, tomatoes, capers and olives, cover and lower heat to medium-low. Cook for 30 minutes or until all the vegetables are tender; stir in basil. Can be served immediately, or at room temperature.

6 Preheat grill to medium-high.

7 Place sausages on grill and cook for 7 minutes on each side. Check to see they are cooked through; if not, cook longer. Serve cooked sausages with caponata.
Serves 4, with 6 cups (1.5 L) caponata
SHARE