Grilled Hanger Steak from Parma
Summer 2013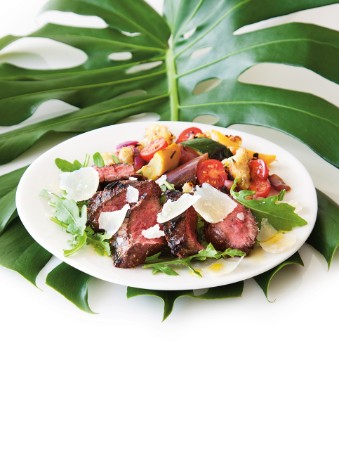 Grilled Hanger Steak from Parma
Summer 2013
BY: Lucy Waverman
There are many alternative steaks today that don't carry the hefty price tag of New York strips or rib-eyes but have just as much flavour and tenderness. The steaks include hanger, flat iron, bavette, flank and tri-tip. My favourite is hanger but any of these steaks will work in this superb recipe. I was served this in a restaurant in Parma, Italy, where it is typical of the region.
MARINADE
2 tbsp (30 mL) olive oil
2 tbsp (30 mL) lemon juice
1 tbsp (15 mL) Dijon mustard
3 garlic cloves, sliced
2 tsp (10 mL) chopped rosemary
Salt and freshly ground pepper

GARNISH
8 cups (2 L) arugula
1 lemon, cut in half
Kosher or Maldon salt
2 tbsp (30 mL) extra virgin olive oil
2 oz (60 g) shaved Parmesan
2½ lbs (1.25 kg) hanger steak
1 Combine oil, lemon juice, mustard, garlic, rosemary and pepper. Toss with hanger steak and leave to marinate for 2 hours or overnight refrigerated. Season with salt just before grilling.

2 Spread arugula on a platter. Sprinkle with 1 tsp (5 mL) freshly squeezed lemon juice and some kosher or Maldon salt.

3 Grill steaks about 5 to 6 minutes a side for medium-rare. Let rest for 5 minutes then cut down on the diagonal into 1-inch-thick (2.5‑cm) slices.

4 Place over arugula, sprinkle with more lemon juice, salt and olive oil, scatter Parmesan all over.
SHARE