Grilled Hangar Steak
Autumn 2009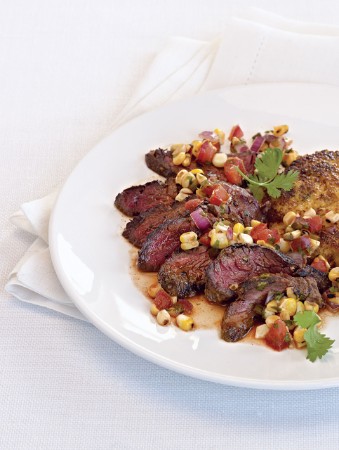 Grilled Hangar Steak
Autumn 2009
BY: Lucy Waverman
Called "alternative" grilling steaks, meat like hangar offers great flavour at a price that is easy on the wallet. The only issue is that it must be carved against the grain. The pieces are long and the grain runs lengthwise so I usually cut the pieces in half and then slice crosswise.
Marinade
2 tbsp (25 mL) Dijon mustard
2 tbsp (25 mL) red wine vinegar
1 tsp (5 mL) honey
1 tbsp (15 mL) chopped fresh thyme
1 tsp (5 mL) chopped garlic
1 tsp (5 mL) chili powder
¼ cup (50 mL) olive oil
2 lbs (1 kg) hangar steak
Salt and freshly ground pepper
1.  Combine mustard, vinegar, honey, thyme, garlic and chili powder in a bowl. Whisk in olive oil. Pour marinade over steak and
marinate in the refrigerator for 4 hours or overnight. Remove steak from refrigerator 1 hour before grilling to come back to room
temperature.

2.  Preheat grill to high.

3.  Season steak with salt and pepper and grill for 4 to 6 minutes per side for medium rare, (depending on thickness) or until desired degree of doneness. Remove from grill and let rest for 5 minutes.

4.  Slice steak against grain and serve with Smoky Corn and Tomato Salsa (below) and Potato and Squash Cakes (below).

Smoky Corn & Tomato Salsa
This salsa is a lovely side dish with the steak but works equally well with chicken or pork. I have even served it at Thanksgiving with
turkey if the right produce is available.

3 ears corn
2 tbsp (25 mL) olive oil
1 tsp (5 mL) smoked mild Spanish paprika
1 jalapeño pepper
3 large ripe tomatoes, chopped
3 tbsp (45 mL) lime juice
¼ cup (50 mL) chopped cilantro
½ cup (125 mL) chopped red onion
Salt to taste
1.  Heat grill to medium-high. Brush corn with oil and sprinkle with paprika. Grill corn and jalapeño for 10 minutes, turning every
2 minutes or until corn is tender with a few blackened kernels and pepper is browned and shrivelled. Cut corn kernels off the cobs. Peel skin from jalapeño, remove seeds and chop fi nely.

2.  Combine corn, jalapeño, tomatoes, lime juice, cilantro and red onion in a bowl. Season with salt to taste.
Makes about 3 cups (750 mL)
Potato & Squash Cakes

This mixture makes a subtle change from using only potato. Pecorino cheese is saltier than Parmesan and it gives a distinctive taste to the mixture. These cakes can be fried and then reheated in a 350°F (180°C) oven. I sometimes make 6 smaller cakes out of this mixture as leftovers reheat beautifully.

1½ lbs (750 g) Yukon Gold potatoes,
unpeeled
2 cups (500 mL) peeled butternut
or buttercup squash, cut into
2 inch (5 cm) pieces
1 cup (250 mL) grated pecorino Romano
cheese
1 tbsp (15 mL) chopped fresh thyme
Salt and freshly ground pepper
2 tbsp (25 mL) vegetable oil for frying
1. Place potatoes in a pot of cold water. Bring to boil, reduce heat to medium and simmer for 20 to 30 minutes or until tender. Drain well. Reserve.

2. Place squash in a pot of cold water. Bring to boil and boil for 6 to 7 minutes or until tender but not soft. Drain and return pot to stove to dry off squash. Reserve.

3. Skin potatoes and grate coarsely. Grate squash into potatoes, stir in cheese and thyme and season with salt and pepper to taste. Form mixture into 4 cakes about 1 inch (2.5 cm)thick.

4. Heat oil in a nonstick skillet over medium heat and fry cakes for 3 minutes per side or until a crust forms and they are heated through.
SHARE