Grilled Flank Steak with Roasted Tomato Pesto
Early Summer 2013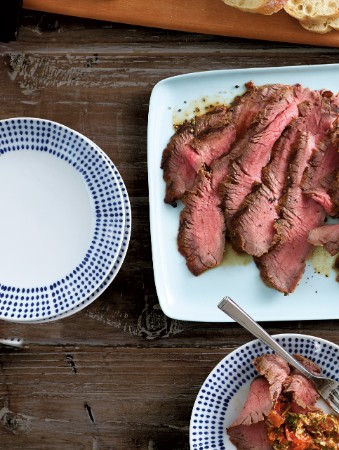 Grilled Flank Steak with Roasted Tomato Pesto
Early Summer 2013
BY: Lucy Waverman
Serve the steak at room temperature. You can use other steak such as hangar, if you prefer. The meatiness of the steak and the richness of the pesto match the flavours in Cabernet Sauvignon perfectly.
1 tbsp (15 mL) Dijon mustard
2 tbsp (30 mL) soy sauce
1 tsp (5 mL) chopped fresh rosemary
½ tsp (2 mL) chili powder
2 tbsp (30 mL) vegetable oil
1½ lbs (750 g) flank steak

ROASTED TOMATO PESTO
2 cups (500 mL) cherry tomatoes cut in half
⅓ cup (80 mL) olive oil
Salt and freshly ground pepper
1 tbsp (15 mL) chopped garlic
¼ cup (60 mL) chopped parsley
¼ cup (60 mL) chopped coriander or mint leaves
½ cup (125 mL) grated Parmesan
1 Combine Dijon, soy sauce, rosemary, chili powder and vegetable oil in a small bowl. Lay flank steak in a shallow dish and coat with marinade. Leave for 1 hour.

2 Preheat oven to 350°F (180°C).

3 Toss tomatoes with 1 tbsp (15 mL) olive oil, reserving remainder, and season with salt and pepper. Spread on a baking sheet, flesh-side up. Bake for 10 to 12 minutes or until shrivelled but still juicy. Let cool for 5 minutes.

4 Add tomatoes to food processor along with garlic, parsley, coriander or mint and remaining olive oil. Whirl until chunky and season well with salt and pepper. Stir in Parmesan and reserve.

5 Preheat grill to high. Place the steak on grill and sear for 1 minute. Close lid and grill for 4 minutes. Turn over and grill for another 4 to 5 minutes or until medium-rare.

6 Let steak cool. Thinly slice against the grain and serve with tomato pesto.
Serves 12 as a tasting dish size
SHARE