Grilled Fish with Plum Sauce
Summer 2016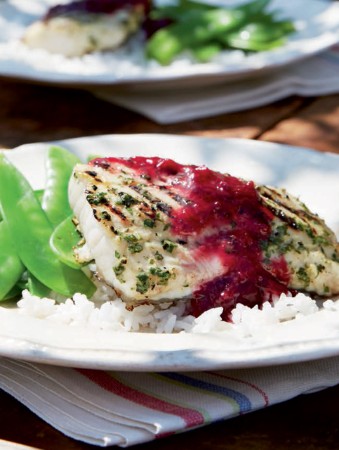 Grilled Fish with Plum Sauce
Summer 2016
BY: Lucy Waverman
Sautéed sugar snaps and bok choy are the best sides for this dish. If you prefer a starch, steamed rice is a good choice.
PLUM SAUCE
1½ lbs (750 g) yellow or red plums, pitted and chopped
¼ cup (60 mL) chopped Spanish onion
¼ cup (60 mL) coconut or brown sugar
¼ cup (60 mL) rice vinegar
1 tsp (5 mL) chopped garlic
2 tsp (10 mL) chopped ginger
1 tbsp (15 mL) fish sauce
1 tsp (5 mL) sriracha

4 pickerel fillets, about 6 oz (175 g) each
2 tbsp (30 mL) Dijon mustard
2 tbsp (30 mL) fish sauce
½ tsp (2 mL) honey
2 tsp (10 mL) chopped cilantro
2 tbsp (30 mL) chopped chives
1 tsp (5 mL) chopped shiso leaves, optional
2 tbsp (30 mL) vegetable oil
1 Simmer all sauce ingredients together until plums are soft, about 20 to 25 minutes. Blend with a hand blender until slightly chunky. Makes 1½ cups (375 mL).

2 Preheat grill to medium-high.

3 Score skin side of fish to prevent fillets from curling on grill.

4 Combine mustard, fish sauce, honey, cilantro, chives and shiso. Brush over fish then brush fish with oil.

5 Place fish, skin-side down, on grill and grill for 5 to 6 minutes with lid closed or until skin is crisped and releases from grill easily. With a large spatula, flip or roll fish over to flesh side and grill another 5 to 6 minutes or until fish is opaque. Remove to a plate. Serve with plum sauce.
SHARE