Grilled Corn and Mushroom Galette in a Cornmeal Crust
Summer 2016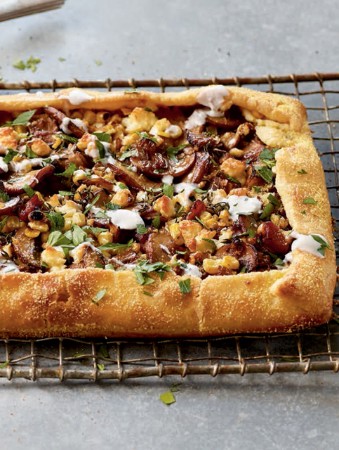 Grilled Corn and Mushroom Galette in a Cornmeal Crust
Summer 2016
BY: Joanne Yolles
Grilled summer corn and mushrooms come together in a light and flaky crust studded with just enough cornmeal for a distinct texture. With the addition of pancetta and feta cheese, the filling needs no extra salt, and though the ingredient list includes only one kind of mushroom, feel free to use a combination of your favourite varieties.
FILLING
2 oz (60 g) pancetta cut into ¼ inch (5 mm) pieces
1½ cups (375 mL) chopped Vidalia onion
4 tsp (20 mL) olive oil
½ lb (250 g) cremini mushrooms, sliced ¼ inch (5 mm) thick
1 tsp (5 mL) finely chopped thyme
Pepper
2 ears fresh corn
2 oz (60 g) feta cheese, crumbled
Cornmeal Pastry (recipe follows)
1 egg yolk lightly beaten with 1 tbsp (15 mL) water
Cornmeal for sprinkling

GARNISH
½ cup (125 mL) plain yogurt
1 tsp (5 mL) lemon juice
Salt and pepper
1 tbsp (15 mL) chopped parsley
1 Heat a large frying pan over medium heat, add the pancetta and cook until browned and just crisp. Using a slotted spoon, transfer to a paper-towel-lined plate to drain, leaving about 1 tbsp (15 mL) of fat in the pan.

2 Place the pan back over medium-high heat. Add the chopped onion and sauté for about 1 minute, stirring the whole time. Reduce heat to low and cook, stirring occasionally until the onions are soft, sweet and golden brown, about 10 to 15 minutes.

3 Add 1 tbsp (15 mL) of the olive oil to the pan along with the mushrooms and thyme. Cook on medium heat, stirring occasionally just until the mushrooms are tender and the liquid has evaporated. Season with pepper and transfer to a bowl to cool.

4 Shuck and clean the corn. Brush with a thin layer of olive oil and place on a medium-hot grill. Rotate when dark spots appear and kernelsdeepen in colour, about 2 to 3 minutes. Continue grilling and rotating until the corn is uniformly cooked, about 10 to 12 minutes.

5 Once cool enough to handle, hold an ear of corn, stem-side down, on the cutting board. Using a sharp knife, start at the top and cutdownward with a gentle sawing motion, until all the kernels have been removed. Repeat with remaining cob. Add the corn kernels to the mushroom mixture, followed by the pancetta and crumbled feta cheese.

6 Place the oven rack in the lowest position and preheat the oven to 425°F (220°C). Line a baking sheet with parchment paper.

7 On a lightly floured surface, roll the pastry to a 9 x 12-inch (23 x 30-cm) rectangle, then transfer to the prepared baking sheet. Spoonthe filling down the centre lengthwise, and spread out to within 1½ inches (4 cm) of the 4 borders, pressing down gently on the filling. Fold the pastry inward on all sides. Place the galette in the freezer for 10 minutes to chill the dough.

8 Just before baking, brush the egg yolk-water mixture lightly over the pastry border. Sprinkle cornmeal overtop of the pastry and bake for 20 minutes, or just until the crust begins to brown. Reduce oven temperature to 350°F (180°C) and bake another 20 minutes.

9 While the galette is baking, combine the yogurt and lemon juice along with a pinch of salt and pepper to taste. When serving, drizzle the yogurt over the galette and garnish with chopped parsley.
CORNMEAL PASTRY

Giving the dough a few folds adds extra flakiness to this pastry. The amount may seem small, but it can be rolled quite thinly.

¾ cup (175 mL) all-purpose flour
3 tbsp (45 mL) cornmeal
½ tsp (2 mL) kosher salt
6 tbsp (90 mL) cold, unsalted butter cut into ¼ inch (5 mm) pieces
2 tbsp (30 mL) ice water
1 Combine the all-purpose flour, cornmeal and salt in a medium bowl. Add the butter pieces and toss to coat the butter with the flour. With your fingertips or a pastry blender, work the butter into the flour until the mixture resembles coarse meal. Some pea-sized pieces of butter should still be visible.

2 Drizzle the ice water over the flour mixture. Toss with a spatula or your hands to bring the dough together. If the dough does not hold together, add more water in small increments, up to 1 more tbsp (15 mL). The dough will still be "shaggy" at this point.

3 On the work surface, and using the heel of your hand, gently pat the dough out to a rough rectangle about ¼ inch (5 mm) thick. Fold the dough in half, gently press out again and fold another time. Repeat this process a third time, then bring the dough together and shape into an even rectangle of about 4 x 6 inches (10 x 15 cm). Wrap in plastic wrap and flatten a bit more with rolling pin. Refrigerate for at least 2 hours or overnight.
Makes one 6 x 9-inch (15 x 23-cm) galette
SHARE