Grilled Chicken Wings with Spiced Barbecue Sauce
Début de l'été 2014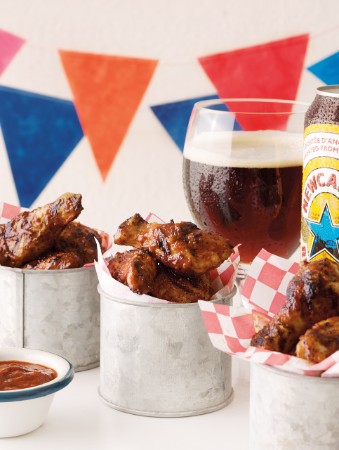 Grilled Chicken Wings with Spiced Barbecue Sauce
Début de l'été 2014
BY: Lucy Waverman
Ancho chili powder has a chocolatey taste and is not overwhelmingly hot. If you can't find it, substitute with regular chili powder. Buy Italian passata for the tomato sauce or purée 1 cup (250 mL) of canned tomatoes with their juice. Grill the wings for a few minutes before adding the barbecue sauce, because the high-sugar content will burn.
BARBECUE SAUCE
1 cup (250 mL) tomato sauce
2 tbsp (30 mL) Dijon mustard
1 tbsp (15 mL) soy sauce
3 tbsp (45 mL) brown sugar
¼ cup (60 mL) cider vinegar
1 tsp (5 mL) chopped garlic
1 tsp (5 mL) chopped ginger
1 tsp (5 mL) ancho chili powder
1 tsp (5 mL) sambal oelek or other hot chili sauce

WINGS
2 lbs (1 kg) chicken wings, wing tip discarded, cut in half
2 tbsp (30 mL) vegetable oil
Salt and freshly ground pepper
1 Combine tomato sauce, mustard, soy sauce, brown sugar, cider vinegar, garlic, ginger, chili powder and sambal oelek in a small pot over high heat. Bring to boil, stirring to dissolve sugar. Simmer for 8 to 10 minutes or until sauce thickens. This will make about 1 cup (250 mL) sauce. Divide into 2 bowls, one for basting and one for dipping.

2 Preheat grill to medium-high.

3 Toss chicken wings with oil and season with salt and pepper. Place chicken wings on grill, and grill for 3 minutes. Turn over and grill another 3 minutes. Brush liberally with sauce and turn over again. Repeat turning and brushing with sauce every 3 minutes or until chicken wings are cooked through, about 12 to 20 minutes total, depending on the size of the wings. Serve the remaining sauce separately for dipping.
SHARE