Grilled Chicken Fettuccine in Creamy White-Wine Sage Sauce
Été 2018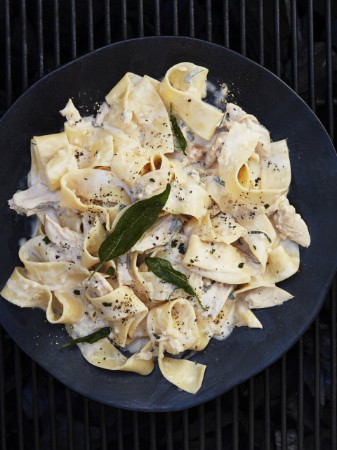 Grilled Chicken Fettuccine in Creamy White-Wine Sage Sauce
Été 2018
BY: Signe Langford
For this luxurious dish, use leftover chicken from the grill, Sunday roast or even a store-bought rotisserie free-range bird. Pick the bird clean for this recipe and use the bones and skin for a tasty stock. We started with half of a leftover 4-lb (1.81-kg) pasture-raised chicken, or about 3 cups (750 mL) of pulled meat, which will serve four for dinner. But if you've only got a quarter left, no worries: just supplement the dish with another protein such as a can of drained and rinsed white, navy or lupini beans; also add any leftover grilled vegetables you may have on hand.    
2 tbsp (30 mL) butter
1 shallot, finely chopped
2 tbsp (30 mL) medium-dry sherry or Madeira
½ cup (125 mL) dry white wine; we used an unoaked Chardonnay
¾ cup (175 mL) 35% cream
3 tbsp (45 mL) finely minced or chiffonade fresh sage, extra leaves for garnish if desired
½ tsp (2 mL) white pepper
½ tsp (2 mL) sea salt
3 cups (750 mL) pulled or chopped leftover chicken
12 to 14 oz (340 to 395 g) pasta; a wide noodle such as fettuccine, linguine or pappardelle,  which holds the sauce nicely


1. Into a large skillet over medium-low heat, add butter and shallot; stir often until shallot is translucent, about 3 minutes. 
2. Add sherry and white wine and allow to burn off a little bit, stirring constantly for about 30 seconds. Add the cream, sage, pepper, salt and chicken; stir to combine.

3. Turn off heat and cover; meanwhile cook pasta according to package directions in generously salted water. Before draining pasta, reserve a cup of the starchy, salty pasta water in case the sauce needs it.

4. Add the drained pasta to the sauce and chicken; turn heat back on under the skillet to low, and stir to coat the pasta well. If the sauce is too sticky or too thin, add a few drops of the reserved pasta water. Taste and adjust seasoning.

5. Serve immediately. Garnish with more fresh sage leaves and pepper if desired.



SHARE