Grilled Bread with White Kidney Beans and Arugula
Automne 2006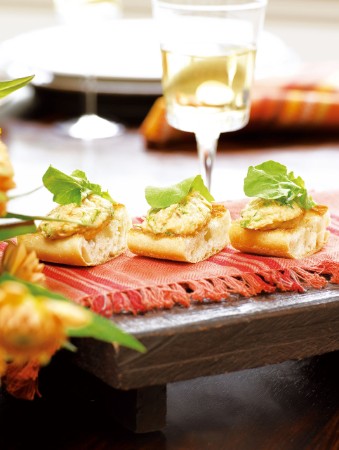 Grilled Bread with White Kidney Beans and Arugula
Automne 2006
BY: Lucy Waverman
Make the bean purée 2 days ahead of time and grill the bread on Thanksgiving morning. You can also serve this as a spread packed in a crock with toasts. Organic canned beans are available at most supermarkets and are the most flavourful by far.
1 head roasted garlic, about ¼ cup (50 mL) (See Tip below)
2 cups (500 mL) canned white beans, rinsed
½ tsp (2 mL) ground cumin
1 tsp (5 mL) smoked paprika
1/3 cup (75 mL) olive oil
2 tbsp (25 mL) lemon juice
½ cup (125 mL) chopped arugula
Salt and freshly ground pepper
1baguette
2 tbsp (25 mL) olive oil
1 large clove garlic, cut in half
1. Place roasted garlic and white beans in a food processor or blender. Sprinkle with cumin, paprika, olive oil and lemon juice. Process until smooth. If too thick, add a little water.

2. Stir in arugula. Season with salt and pepper.

3. Cut baguette in half lengthwise. Brush both halves with oil. Grill bread on barbecue or under broiler for 2 to 3 minutes or until golden. Immediately rub with garlic clove. Cool.

4. Cut each half into 8 pieces and top with spread. Garnish with extra arugula leaves.

Tip:
To roast garlic: cut off top third of head and discard. Sprinkle with olive oil. Wrap in foil and bake at 400ºF (200ºC) for 40 minutes or until cloves are soft. You can do as many heads as you need at one time.


SHARE