Grilled Beets & Peppercorn-Beef Roast with Gorgonzola Sauce
Winter 2014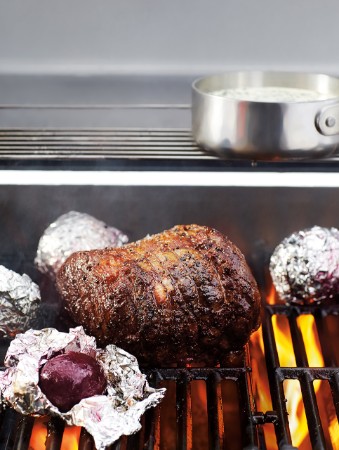 Grilled Beets & Peppercorn-Beef Roast with Gorgonzola Sauce
Winter 2014
BY: Victoria Walsh
Why barbecue in the winter? A bonus of a big grill is that it allows you to cook beef and beets in tandem (without a huge mess or a lot of dishes). When barbecuing in cool weather, just be sure to place an oven thermometer inside the grill (preferably on the top rack) in order to keep an eye on it and maintain the temperature.
BEEF
3 to 4 lbs (1.5 to 2 kg) prime-rib or sirloin-tip beef roast
1 tbsp (15 mL) olive oil
1 tbsp (15 mL) peppercorns, coarsely cracked
1 tsp (5 mL) kosher salt

BEETS
2 bunches of beets, at least 6 beets in total
½ cup (125 mL) balsamic vinegar
2 tbsp (30 mL) honey
1 orange, zested

GORGONZOLA SAUCE
1 cup (250 mL) whipping cream
2 oz (60 g) crumbled Gorgonzola or blue cheese
2 tbsp (30 mL) chopped chives
¼ tsp (1 mL) pepper
1 Pat beef dry with paper towels. Rub roast with oil, cracked pepper and salt. Bring to room temperature. This will take 1 to 2 hours.

2 Meanwhile, wash and then wrap each beet individually with foil. Preheat barbecue to medium-high, 500°F (260°C). Heat vinegar and honey in a small saucepan over medium heat. Stir often for 5 minutes until reduced by half. Set aside. Meanwhile, zest orange.

3 When barbecue is preheated, reduce heat on one side to low. Using medium-high side of grill, brown meat all over about 5 to 10 minutes per side. Place roast on low-temperature side of grill. Reduce temperature of high side of grill to medium and arrange beets over it.

4 Adjust heat so that barbecue is 350°F (180°C).

5 Barbecue beets for 45 minutes to an hour until fork-tender. Barbecue beef until an instant-read thermometer inserted into thickest part of meat reads 128°F (53°C) for medium-rare. This will take 40 minutes to 90 minutes depending on the thickness of the roast and if it has bones.Check roast occasionally keeping in mind that internal temperature may continue to rise while resting.

6 Meanwhile, heat cream in a small saucepan over medium heat. Gently heat, stirring occasionally for 30 to 40 minutes until reduced.Remove from heat. Stir in Gorgonzola, chives and pepper. Pour into a gravy boat and cover to keep warm.

7 When done, remove roast and beets from barbecue. Place roast on a carving board.Loosely cover with foil. Let rest for 15 to 25 minutes.Meanwhile, remove foil from beets. When cool enough to handle, remove and discard skins. Slice into wedges.

8 To serve, carve roast. Serve slices of beef alongside beet wedges. Drizzle beets with balsamic glaze and sprinkle with orange zest.Spoon Gorgonzola sauce over beef. Mashed potatoes are a delicious accompaniment.
SHARE