Grilled Asparagus & Vine Tomatoes with Horseradish Crème Fraîche
Early Summer 2010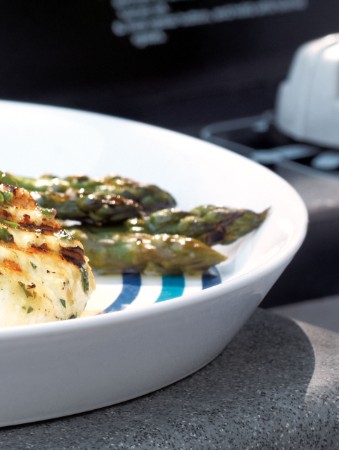 Grilled Asparagus & Vine Tomatoes with Horseradish Crème Fraîche
Early Summer 2010
BY: Eshun Mott
Grilling small vine tomatoes renders them soft, slightly smoky and meltingly tender. Use thick spears of asparagus for this as they are the most delicious and don't disappear between the grates of the barbecue.
1½ lbs (750 g) asparagus, tough ends removed
2 tbsp (25 mL) olive oil
Salt
1 lb (500 g) Campari tomatoes or cocktail-size
tomatoes on the vine
½ cup (125 mL) crème fraîche
1 tbsp (15 mL) prepared horseradish
1. Blanch asparagus in salted boiling water for 1 to 2 minutes or until almost tender, then drain and rinse under cold water to stop the cooking. Pat asparagus dry with paper towels. Toss asparagus with olive oil and season with salt.

2. Preheat barbecue on high heat.

3. Place tomatoes on barbecue and grill for about 7 minutes with the lid closed or until they are grill-marked and the skin has begun to split. Add asparagus and grill for 3 minutes, turning occasionally, until asparagus is grill marked and tender-crisp. Transfer vegetables to a serving platter.

4. Stir crème fraîche and horseradish together, and either drizzle over vegetables or serve alongside so that guests may help themselves.
SHARE