Green on Greens
Autumn 2018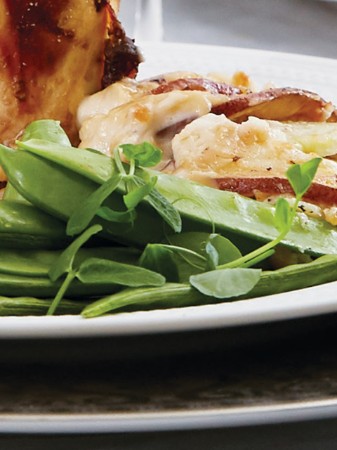 Green on Greens
Autumn 2018
BY: Lucy Waverman
With its crunchy peas and pretty greens, this dish is the perfect accompaniment to the beef and gratin. The secret is to cut most of the stalk off the pea shoots and toss the green tops in with the other peas. Save a few tops for a fresh garnish.
2 tbsp (30 mL) vegetable oil
1 tbsp (15 mL) soy sauce
1 tsp (5 mL) grated ginger
8 oz (225 g) snow peas, trimmed
8 oz (225 g) sugar snap peas, trimmed
2 tbsp (30 mL) butter
3 cups (750 mL) pea shoots, stalks trimmed
Salt and freshly ground pepper

GARNISH
A handful of pea shoot tops
1. Heat vegetable oil in wok or large frying pan over high heat until very hot. Combine soy sauce and ginger, set aside. Add snow peas and sugar snap peas to pan and stir-fry until crisp-tender, about 2 minutes.

2. Sprinkle in soy mixture and stir in butter. Cook until butter melts. Stir in pea shoots and toss together until pea greens barely wilt. Season with salt and pepper, garnish with pea shoot tops and serve.
SHARE