Green Minestrone
Autumn 2008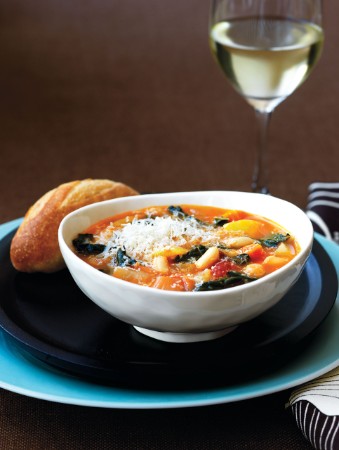 Green Minestrone
Autumn 2008
BY: Lucy Waverman
Minestrone is an adaptable soup. The vegetables in it should change with the seasons. You can use water or vegetable stock if you want to keep it vegetarian, but it won't have as rich a flavour. Specific amounts of vegetables are not needed: toss in what you have. The Parmesan rind (if you have any) gives an even deeper flavour to the soup. Remove before serving.
3 tbsp (45 mL) olive oil
1 cup (250 mL) diced onion
1 cup (250 mL) diced carrots
1 cup (250 mL) diced fennel
1 tbsp (15 mL) chopped garlic
1 zucchini, diced
1 yellow summer squash, diced
2 tsp (10 mL) fresh thyme
¼ tsp (1 mL) red pepper flakes
½ tsp (2 mL) ground fennel seeds
1 bunch dino kale, stem removed and cut into 1 inch (2.5 cm) pieces
One 540 mL can white kidney beans, drained
1½ cups (375 mL) canned tomatoes with their juices, broken up
4 cups (1 L) chicken stock
One 2 inch (5 cm) piece Parmesan cheese rind, optional
Salt and freshly ground pepper

Garnish
1 cup (250 mL) shaved Parmesan
1. Heat oil in large soup pot over medium heat. Add onion, carrots, fennel and garlic and sauté over low heat for 10 minutes or until softened. Add zucchini and summer squash and sauté another 10 minutes or until vegetables are soft but not browned. Add thyme, red pepper flakes and fennel seeds and stir to coat vegetables.

2. Add kale, beans, tomatoes, stock and Parmesan rind and bring to boil. Reduce heat and simmer, covered, for 20 to 30 minutes or until everything is soft and soup is flavourful. Season well with salt and pepper. Discard Parmesan rind.

3. If the soup is too thick add some water to thin it out. Spoon into bowls and garnish with shaved Parmesan.

Tip: Apart from the regular ruffled kale, the delicious dinosaur (dino) or black kale also called cavalo nero packs a huge nutritious punch. It has long greeny blue leaves and is sweeter and tastier and needs less cooking time than other kales. Choose kale with smaller leaves as it will be more tender. Store it in the refrigerator wrapped in a paper towel enclosed in a plastic bag.
SHARE