Green Garlic Vichyssoise
Early Summer 2013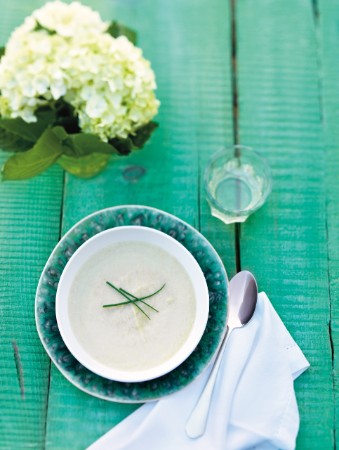 Green Garlic Vichyssoise
Early Summer 2013
BY: Lucy Waverman
Green garlic refers to the immature stems of garlic before the garlic matures into bulbs and before scapes form. They look like large green onions often with a purple base and have a mild garlic taste. Use the same amount of green onion and 1 tbsp (15 mL) finely chopped garlic if you cannot find them. They are available at farmer's markets all through May and June. Try this soup hot, too.
2 tbsp (30 mL) butter
2 cups (500 mL) chopped leeks, dark green leaves removed
2 cups (500 mL) chopped green garlic
1 cup (250 mL) peeled and coarsely chopped
Yukon Gold potatoes
4 cups (1 L) chicken stock
Salt and freshly ground pepper
¼ cup (60 mL) whipping cream
4 chive flowers or ¼ cup (60 mL) chopped chives
1 Melt butter in soup pot over medium heat. Add leeks and green garlic and sauté for 3 minutes or until softened. Add potatoes and sauté another 3 minutes or until potatoes begin to soften.

2 Add stock and bring to boil. Reduce heat to medium-low and simmer for 10 to 15 minutes or until potatoes are very soft. Season with salt and pepper.

3 Purée soup in blender or food processor until smooth. Place in bowl, stir in cream and chill.

4 Garnish with chive flowers or chopped chives.

Universal Gravy 
Fresh vegetables flavour this smooth and delicious gravy that can be frozen (see TIP below).
Do use fats with distinctive tastes such as olive oil, butter or even chicken, beef or bacon fat if available. Wine adds acidity while rounding out the taste. Use either chicken, beef or "brown" ingredients in the recipe.

CHICKEN
1 box (900 mL) reduced-sodium chicken broth
1 can (284 mL) condensed chicken broth
½ cup (125 mL) dry white wine

BEEF
1 box (900 mL) reduced-sodium beef broth
1 can (284 mL) can condensed beef broth
½ cup (125 mL) dry red wine

"BROWN"
1 box (900 mL) reduced-sodium chicken broth
1 can (284 mL) can condensed beef broth
½ cup (125 mL) dry red or white wine

GRAVY
3 tbsp (45 mL) olive oil or butter or other fat
1 medium onion, diced
2/3 cup (150 mL) all-purpose flour
1 medium carrot, coarsely diced
1 medium stalk celery, coarsely diced
3 large white or cremini mushrooms, cut in quarters
Several sprigs fresh thyme
1 bay leaf
¼ tsp (1 mL) freshly ground black pepper
Salt, if needed
1 Open chosen box and can of broth; set aside. Heat oil in a large saucepan over medium heat; add onion. Cook, stirring frequently for 8 to 10 minutes until some bits are golden brown. Stir in flour; cook 1 minute.

2 Slide pan off heat. While stirring with a wooden spoon or whisk, slowly add about a third of boxed broth; stir until smooth. Then add remaining boxed broth, condensed broth and wine. Return to heat; bring to
a boil, stirring frequently. Add carrot, celery, mushrooms, thyme and bay leaf.

3 Reduce heat so gravy simmers, uncovered. Stirring occasionally, let gently bubble for 20 to 25 minutes or until slightly reduced and thickened.

4 Strain to remove solids; discard solids. Immediately stir in pepper; taste and add salt if needed. To prevent a "skin" from developing, lay a piece of plastic wrap directly on the surface of the hot gravy. If a thinner gravy is desired at any time, dilute with water, stirring in 1 tbsp (15 mL) at a time, as needed. Covered and promptly refrigerated, gravy keeps well for several days. 

TIP Gravy keeps well for months in the freezer if packed with most air excluded from packaging. Use zippered freezer bags and freeze gravy flat for easy defrosting. When defrosted, whiz with a hand blender,
or in a blender, to restore silky smoothness.
Makes a generous 5 cups (1.25 L)
SHARE