Green Curry Chicken Summer Roll Salad
Été 2010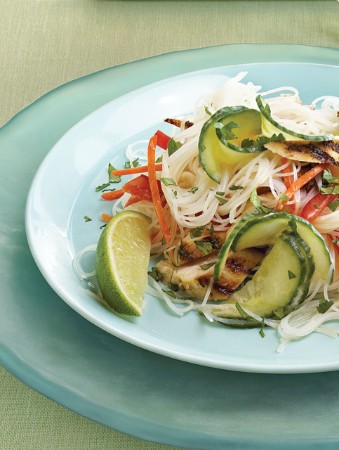 Green Curry Chicken Summer Roll Salad
Été 2010
BY: Jennifer MacKenzie
This cool salad captures the flavours of summer rolls but holds well in the fridge—call it"deconstructed summer rolls." You can mix in the vegetables when you dress the noodles and keep it all refrigerated for a day but you do get a fresher flavour and texture if you toss it all just before serving. If you want to prep the vegetables ahead, wrap them in paper towel and refrigerate in a plastic storage bag (keep the bean sprouts separate). Change up the salad by using pork tenderloin instead of the chicken; just butterfly two tenderloins and marinate and cook as directed until just a hint of pink remains in pork. For a second incarnation you can wrap the salad (with or without chicken) in soaked rice papers with mint or cilantro to make summer rolls, or wrap it in lettuce leaves.
1 can (398 mL) coconut milk
4 tsp (20 mL) packed brown sugar
4 tsp (20 mL) fish sauce
1 tbsp (15 mL) Thai green curry paste
2 lbs (1 kg) boneless skinless
chicken breasts (about 4 large)
Salt and freshly ground pepper
8 oz (250 g) rice vermicelli
1 tsp (5 mL) grated lime zest
¼ cup (50 mL) freshly squeezed lime juice
2 large carrots, julienned
1 English cucumber, halved lengthwise
and thinly sliced
1 large red pepper, halved crosswise
and thinly sliced
3 cups (750 mL) bean sprouts
Chopped fresh cilantro and/or mint
Lime wedges
1. Combine ½ cup (125 mL) coconut milk, 1 tsp (5 mL) brown sugar, 2 tsp (10 mL) fish sauce and the green curry paste in a heavy-duty plastic storage bag or a shallow dish. Add chicken and turn to coat. Seal bag or cover dish and refrigerate for at least 4 hours or for up to 24 hours.

2. Preheat grill to medium or preheat broiler.

3. Remove chicken from marinade, discarding marinade, and season with salt and pepper. Place on oiled grill or a rimmed baking sheet and grill or broil for about 20 minutes, turning once, or until no longer pink inside. Transfer to a shallow container and let cool. Cover and refrigerate until chilled, about 2 hours or for up to 2 days.

4. Place rice noodles in a large, heatproof bowl and pour in enough boiling water to cover. Let soak for about 2 minutes, just until tender, or cook according to package directions. Drain and rinse under cold water; drain well.

5. Combine remaining coconut milk, brown sugar and fish sauce in a small saucepan. Bring to a boil over medium heat, stirring often.Reduce heat and boil gently, stirring often, for about 10 minutes or until reduced by about one-third. Remove from heat and stir in lime zest and juice. Toss half of the dressing with noodles in a large bowl. Cover and refrigerate for at least 30 minutes or for up to 2 days. Transfer remaining dressing to a container and refrigerate separately.

6. To serve, let dressing and noodles warm to room temperature. Add dressing, carrots, cucumber and red pepper to noodles and toss to combine. Season to taste with salt and pepper.Toss in bean sprouts. Slice chicken and place on top of noodles; sprinkle with cilantro and/or mint. Serve with lime wedges to squeeze overtop.
SHARE