Green Beans with Caramelized Garlic
Autumn 2018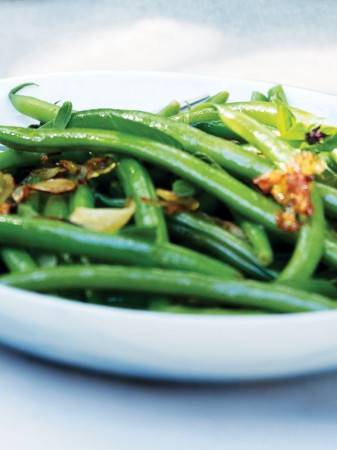 Green Beans with Caramelized Garlic
Autumn 2018
BY: Eshun Mott
Caramelized sugar is at the base of many Vietnamese dishes. This dish is a simplification of the traditional process but gives the beans a very special flavour.
1½ lbs (680 g) green beans, stem end trimmed
2 tbsp (30 mL) canola oil
2 shallots, halved and thinly sliced
4 garlic cloves, thinly sliced
2 tbsp (30 mL) sugar
2 tbsp (30 mL) fish sauce
¼ cup (60 mL) Thai basil leaves
1. Blanch green beans in a pot of boiling salted water for 3 minutes or until tender-crisp. Drain and plunge into cold water to stop them from cooking further. Set aside.

2. Heat oil in a large heavy frying pan over medium-high heat. Add shallots and garlic and sauté for 2 minutes or until lightly golden. Add sugar and cook, stirring, for 1 to 2 minutes longer or until sugar has dissolved and is beginning to caramelize. Add drained green beans and fish sauce and toss for 1 minute or until beans are hot and coated with garlic mixture. Add basil leaves and serve.
Makes 10 servings as part of whole menu
SHARE