Greek Zucchini & Tomatoes
Summer 2013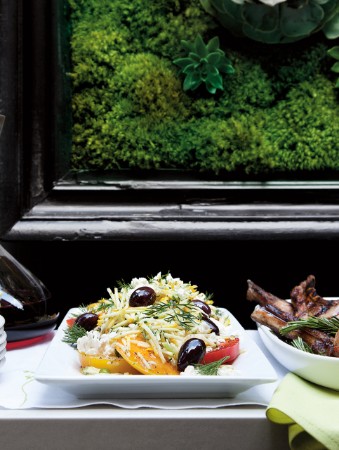 Greek Zucchini & Tomatoes
Summer 2013
BY: Marilyn Bentz-Crowley
Late summer's impressive glut of zucchini and tomatoes is celebrated here in a composed salad with mint and dill that's especially good with grilled lamb or pork. The combination of fresh herbs can be varied to include others such as parsley, thyme, oregano and basil.
1 lb (500 g) zucchini, about 3 to 4, medium size
1 lb (500 g) yellow summer squash, about 3 to 4, medium size
½ cup (125 mL) thinly sliced green onions or snipped chives or finely diced sweet onion
1 to 2 lemons
¼ cup (60 mL) olive oil
1 large clove garlic, minced
2 tbsp (30 mL) chopped fresh mint
2 tbsp (30 mL) chopped fresh dill
½ tsp (2 mL) salt
¼ tsp (1 mL) freshly ground black pepper
4 to 5 large ripe tomatoes, preferably a mixture of colours
1 cup (250 mL) crumbled feta
⅔ cup (150 mL) Kalamata black olives
1 Using a mandolin or chef's knife, thinly julienne zucchini and squash. There should be about 8 cups (2 L). Mix julienne with green onion slices.

2 Zest 1 lemon. Divide amount of zest into halves, covering half in a small dish. Then squeeze 3 tbsp (45 mL) juice. Whisk olive oil with remaining half of zest, juice, garlic, herbs, salt and pepper.

3 Toss julienne mixture with vinaigrette. Let sit 30 to 60 minutes to blend flavours; then taste and add remaining zest if needed. Cover and refrigerate salad for up to half a day.

4 When ready to serve, core and thickly slice tomatoes. Coarsely grind additional black pepper over tomatoes (do not salt as feta and olives are salty). Decoratively arrange on a large platter or individual plates. Top with zucchini salad, feta and black olives; garnish with additional fresh herbs.
SHARE