Greek Salad with Mini New Potatoes
Summer 2006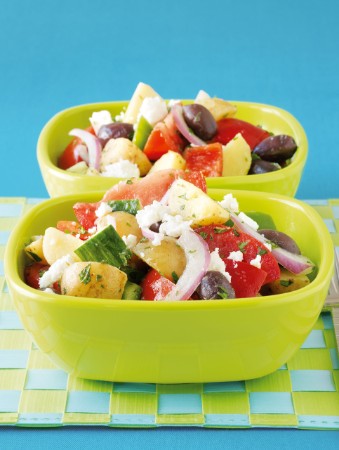 Greek Salad with Mini New Potatoes
Summer 2006
BY: Marilyn Bentz-Crowley
Softly cooked potatoes paired with crunchy vegetables provide a delightful interplay of textures. And oil infused with fresh oregano adds new dimension to this summer classic. Traditional garden cucumbers can be used instead of English cucumber, but peel them and use a spoon to remove the seedy interior before cutting into chunks.
Vinaigrette
½ cup (125 mL) olive oil
½ cup (125 mL) coarsely chopped fresh oregano, stems and leaves
1 large garlic clove, minced
3 tbsp (45 mL) red wine vinegar
1 tbsp (15 mL) freshly squeezed lemon juice
¾ tsp (4 mL) salt
3 to 4 grindings black pepper

Salad
1½ lb (750 g) mini new potatoes
1 large sweet red pepper
1 large green pepper
5 large ripe tomatoes
½ English cucumber
¾ cup (175 mL) thinly sliced red onion
5 oz (150 g) feta cheese
½ cup (125 mL) coarsely chopped fresh parsley
¼ cup (50 mL) coarsely chopped fresh mint
1 cup (250 mL) kalamata or other black olives
1. Heat oil in a small saucepan over medium-low heat until hot but not smoking. Add oregano; remove from heat and stir in garlic. Cool completely. Strain oil into a very large mixing bowl; discard oregano. Whisk in vinegar, lemon juice, garlic, salt and pepper.

2. Steam potatoes, partially covered, over gently boiling water 20 minutes or until tender. Do not skin potatoes. Cut into halves or quarters depending on size. Add to dressing; gently stir to coat. If making ahead, cover and refrigerate for up to a day.

3. When ready to serve, seed peppers and cut into 1-inch (2.5-cm) pieces. Core and slice tomatoes into wedges. Dice cucumber and onion into ½-inch (1-cm) pieces. Coarsely crumble feta. Fold vegetables and feta into salad along with parsley, mint and olives until well combined. Turn into a large serving bowl. Serve with a crusty peasant loaf and grilled lamb for a sumptuous supper.
Makes 6 to 8 side dish servings
SHARE