Greek Lamb Kebabs
Summer 2004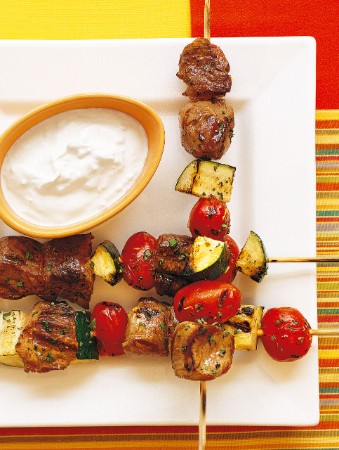 Greek Lamb Kebabs
Summer 2004
BY: Heather Trim
These kebabs are equally delicious when made with pork. Serve with a basket of hot grilled pitas or orzo.
¼ cup (50 mL) lemon juice
2 tbsp (25 mL) olive oil
2 garlic cloves, chopped
1 tsp (5 mL) dried oregano leaves
½ tsp (2 mL) each salt and black pepper
2 bay leaves
¾ lb (375 gms) lamb or pork tenderloin
1 small zucchini
1 cup (250 mL) grape tomatoes
Tzatziki or crumbled feta cheese
1. In a medium bowl, whisk lemon juice with oil, garlic, oregano, salt and pepper. Add bay leaves. Cut meat into 1-in (2.5-cm) chunks. Add to lemon juice mixture. Stir to evenly coat. Cover and refrigerate at least 4 hours, but preferably overnight.

2. Lightly oil grill and preheat barbecue to medium-high. Slice zucchini into bite-size chunks. Place in a bowl along with grape tomatoes. Drizzle with a little olive oil and sprinkle with salt and pepper. Stir.

3. Thread meat onto skewers randomly with zucchini and tomatoes. Place on grill and barbecue, turning occasionally for 8 to 10 minutes.

4. Serve with tzatziki as a dipping sauce or sprinkled with feta.
SHARE