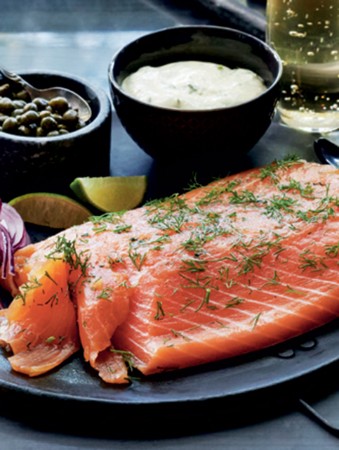 BY: Marilyn Bentz-Crowley
Usually this is an appetizer served on pieces of dark rye bread. However, gravlax can be a light meal when accompanied by hot boiled potatoes generously tossed with butter and a sour cream and cucumber salad. Or use as a garnish on a bowl of hot pasta mixed with a garlicky cream sauce. Dill paste is found in refrigerated produce sections in a squeezable tube that is a mid-winter boon for fresh herb needs.
FISH
1 side fresh salmon, 2 to 3 lbs (1 to 1.5 kg) deboned with skin left on
¼ cup (60 mL) granulated sugar
3 tbsp (45 mL) coarse salt
l large bunch fresh dill, leaves chopped (divided)
or ¼ cup (60 mL) dill paste
Several grindings of white pepper

SAUCE
¼ cup (60 mL) white wine vinegar
¼ cup (60 mL) Dijon mustard
2 egg yolks
2 tbsp (30 mL) granulated sugar
1 tsp (5 mL) salt
1½ cups (375 mL) olive oil
3 to 4 tbsp (45 to 60 mL) finely chopped fresh dill
or 2 tbsp (30 mL) dill paste

1 loaf dark rye bread, thinly sliced
1 Cut salmon in half widthwise. Evenly sprinkle each half with a mixture of sugar and salt, fresh dill and a bit of freshly ground white pepper. (If using dill paste, spread on fish before sprinkling with sugar, salt and pepper.)

2 Place one-half fish in a glass dish, skin-side down. Stack the remaining half fish, skin-side up, over the fish in dish, forming a "sandwich" with the green coating in the middle. Cover with plastic wrap and refrigerate in the coldest part of the refrigerator (usually down low and in the back).

3 Every day for the next 3 days (or up to 5), turn over the "fish sandwich," covering again with plastic wrap and returning to the refrigerator.

4 When ready to serve, lightly scrape off some of dill coating. Cut salmon very thinly at an angle as with smoked salmon. Keep covered and chilled until ready to serve.

5 To make sauce, whisk vinegar, mustard, yolks, sugar and salt in a bowl until combined, or use a hand blender. Constantly whisk or blend in oil, very slowly at first, to make a smooth thick mayonnaise sauce. Cover and chill for up to a week. When ready to use, stir in fresh dill or dill paste.

6 To serve, decoratively arrange slices as needed over small pieces of buttered dark rye bread; top with a dab of sauce. Serve immediately accompanied by extra sauce and such items as finely chopped red onion, capers, lime wedges and a black pepper grinder for guests to garnish to taste.
Makes 1 side of salmon, about 10 to 12 servings
SHARE