Gravlax with Mustard Sauce on Dill and Scallion Pancakes
Holiday 2001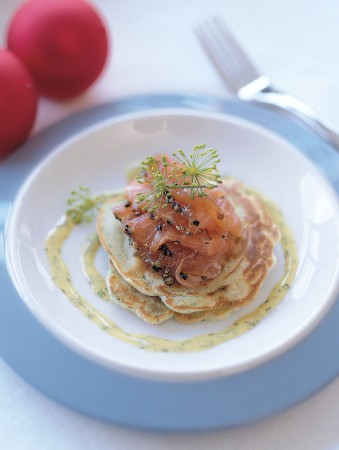 Gravlax with Mustard Sauce on Dill and Scallion Pancakes
Holiday 2001
BY: Lucy Waverman
Gravlax is salmon that has been "cooked" in a marinade for three days. Originally a Scandinavian dish, it is a perfect substitute for smoked salmon and costs much less when you make it yourself. Its subtle, sensuous taste is perfect for appetizers and hors-d'oeuvre as well as an excellent first course served with a salad. Once the herbs are scraped off the salmon, it will keep in the marinade for 10 days.
Two 1 lb (500 g) centre-cut salmon fillets
1 tbsp (15 mL) coarsely crushed peppercorns
1 tbsp (15 mL) coarsely crushed coriander seeds
1 tsp (5 mL) dry mustard
2 tbsp (25 mL) kosher salt
2 tbsp (25 mL) granulated sugar
¼ cup (50 mL) vodka
1 large bunch fresh dill, trimmed
1 Place salmon, skin-side-down, on a large sheet of plastic wrap. Combine peppercorns, coriander seeds, mustard, salt and sugar. Press evenly onto flesh side of both salmon fillets.

2 Remove salmon from plastic and place one salmon fillet in dish large enough to hold it. Sprinkle with 2 tbsp (25 mL) vodka. Lay dill sprigs in a heavy layer over it. Place second salmon fillet on top so that flesh sides meet. Spoon over remaining vodka.

3 Cover with plastic wrap, place a tray inside the dish on top of salmon. Weigh down with tin cans or other heavy weights.

4 Refrigerate for 2 days, turning over and spooning over juices every 12 hours.

5 To serve, remove from the marinade, scrape away dill but leave on seasonings. Slice thinly and sprinkle with extra crushed peppercorns, crushed coriander seeds and chopped dill, if desired. Serve on dill pancakes with the mustard sauce.
Serves 6 as an Hors-d'oeuvre, with leftovers

MUSTARD SAUCE
This is a traditional sauce with gravlax, but it can also be used with hamburgers or sausages

⅓ cup (75 mL) Dijon mustard
1 tsp (5 mL) dry mustard
¼ tsp (1 mL) hot pepper sauce
2 tbsp (25 mL) granulated sugar
2 tbsp (25 mL) white wine vinegar
⅓ cup (75 mL) olive oil
3 tbsp (45 mL) finely chopped fresh dill
2 tbsp (25 mL) whipping cream
1  In a small bowl mix together mustards, pepper sauce, sugar and vinegar to form a paste.

2  With a wire whisk, slowly beat in oil until a mayonnaise-like mixture is formed. Stir in the dill and whipping cream.

3  Refrigerate until needed. The sauce will keep for 2 weeks in the refrigerator.


Makes about 1 cup (250 mL)

DILL AND SCALLION PANCAKES
These baby pancakes are terrific bases for serving all kinds of hors d'oeuvres. They can be used cold or reheated in a 300°F (150°C) oven for 5 minutes.

½ cup (125 mL) all-purpose flour
¼ tsp (1 mL) salt
1 tsp (5 mL) baking powder
1 egg
1 tbsp (15 mL) melted butter
½ cup (125 mL) milk
2 chopped green onions
2 tbsp (25 mL) chopped fresh dill
2 tbsp (25 mL) vegetable oil
1  Combine flour, salt and baking powder in a bowl. Beat together egg, butter and milk in a separate bowl. Stir egg mixture into flour mixture until combined. Stir in onions and dill.

2  Heat oil in nonstick skillet or griddle on medium heat. Add 1 tbsp (15 mL) mixture per pancake into skillet. Cook 1 minute or until mixture is bubbly on top. Turn over and cook second side until golden, about another minute.


Makes about 10 mini-pancakes
SHARE