Gravlax Tartine with Dill-Caper Slather
Autumn 2013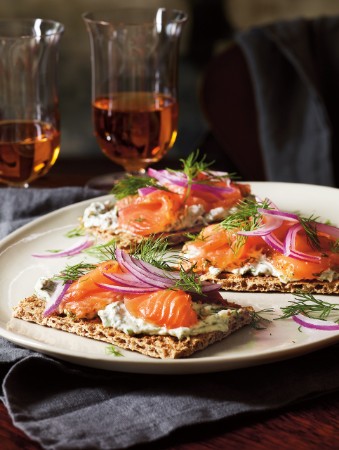 Gravlax Tartine with Dill-Caper Slather
Autumn 2013
BY: Christopher St. Onge
These lovely open-face sandwiches can be served on a variety of breads, but a sourdough rye or rye crisp bring the flavours to life. If you wish to keep some of the salmon for later, it will keep, scraped of the curing mixture, tightly covered and refrigerated for 2 weeks.
GRAVLAX
3 tbsp (45 mL) sugar
2 tbsp (30 mL) fine sea salt
1 tbsp (15 mL) cracked coriander seed
1 tsp (5 mL) cracked black pepper
1 tsp (5 mL) crushed pink peppercorns
1¼ lbs (625 g) centre-cut salmon fillet, pin bones removed
1 cup (250 mL) chopped dill

DILL-CAPER SLATHER
½ cup (125 mL) mayonnaise
½ cup (125 mL) spreadable cream cheese
1 tbsp (15 mL) whole-grain mustard
⅓ cup (80 mL) chopped dill
½ tsp (2 mL) finely grated lemon zest
2 tbsp (30 mL) chopped capers
2 tbsp (30 mL) chopped dill pickle
8 rye crisps or slices sourdough rye
½ red onion, thinly sliced
Additional dill for garnish
1 For the gravlax, combine sugar, salt, coriander seed, black and pink peppercorns in a small bowl and set aside. Rinse salmon and pat dry.

2 Select a glass baking dish large enough to hold salmon and line with plastic wrap. Lay half of dill on wrap. Sprinkle flesh-side of salmon with half of the sugar mixture and place flesh down on top of dill. Sprinkle skin-side of salmon with remaining sugar mixture and top with remaining dill. Enclose salmon snugly in wrap, cover and refrigerate for 24 hours. Turn salmon over, and continue to cure in refrigerator for an additional 12 to 24 hours (the longer the cure the drier the flesh becomes).

3 Meanwhile, prepare the dill-caper slather. Whisk together mayonnaise and cream cheese in a medium bowl. Stir in mustard, dill, lemon zest, capers and pickle. Refrigerate overnight, or up to 2 days, to allow flavours to develop.

4 To serve, unwrap salmon and discard liquid. Scrape curing mixture and dill from salmon and thinly slice. Spread slather on crisps or bread, top each with 4 to 5 pieces salmon; garnish with red onion and additional dill.
SHARE