Gratin of Potatoes, Shallots and Sage
Holiday 2000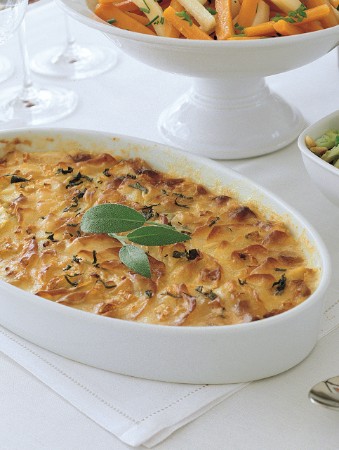 Gratin of Potatoes, Shallots and Sage
Holiday 2000
BY: Lucy Waverman
The sweetness of the shallots and the pine flavour of the sage complement this rich potato gratin.
3 lbs (1.5 kg) Yukon Gold Potatoes, peeled
1/4 cup (50 mL) butter
2 cups (500 mL) whipping cream
2 cups (500 mL) milk
6 shallots, chopped
1/4 cup (50 mL) sliced fresh sage
4 cloves garlic, chopped
1. Preheat oven to 400°F (200°C). Thinly slice potatoes. Butter a 13 x 9-inch (3-L) baking dish.

2. Combine cream, milk, shallots, sage and garlic in pot. Bring to boil. Remove from heat and let sit for 15 minutes. Strain, reserving both vegetables and liquid separately.

3. Make a single layer of potatoes in dish. Season with salt and pepper. Sprinkle over some shallot mixture. Repeat layers, seasoning and sprinkling on vegetables until all potatoes are used up. Pour over liquid. Press potatoes down to make sure the liquid comes right to top. If not add more cream. Dot with butter.

4. Bake for 45 minutes to 1 hour or until potatoes are tender and liquid is absorbed.
SHARE