Gratin of Potatoes, Bacon and Reblochon Cheese
Winter 2014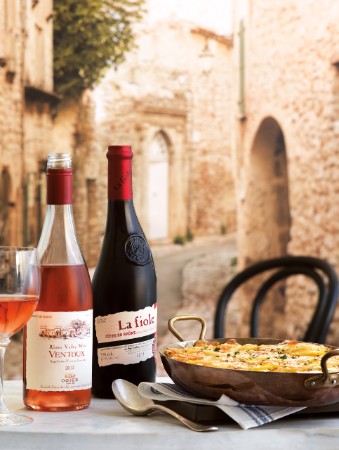 Gratin of Potatoes, Bacon and Reblochon Cheese
Winter 2014
BY: Julia Aitken
For most authentic flavour, top this luxurious potato dish (known as tartiflette in south east France) with creamy Reblochon cheese, using a vegetable peeler to remove its rind. In a pinch you can substitute Camembert but you'll miss out on some of the richness. We love this as a rustic main course for a frigid winter's night, but it also makes a hearty accompaniment for six alongside roast chicken or grilled pork chops.
Softened unsalted butter
2 lbs (1 kg) Yukon Gold potatoes, peeled and cut into ¼ inch (5 mm) slices
Kosher salt
1 tbsp (15 mL) olive oil
4 oz (125 g) thick-cut, double-smoked bacon, chopped
1 onion, thinly sliced
1 tsp (5 mL) herbes de Provence
1 clove garlic, minced
Freshly ground black pepper
½ cup (125 mL) whipping cream
8 oz (250 g) Reblochon cheese (rind removed), cut into cubes
1 tbsp (15 mL) finely chopped parsley
1 Preheat oven to 425°F (220°C).

2 Butter a shallow 6-cup (1.5-L) gratin or baking dish and place on a baking sheet.

3 Put sliced potatoes in a large saucepan of salted water. Bring to a boil over high heat.Reduce heat to medium-low and cook, covered, until potatoes are just tender but not breaking up, 10 to 12 minutes. Drain well and set aside.

4 Meanwhile, in a large skillet, heat oil over medium heat. Add bacon, onion and herbes de Provence and cook, stirring occasionally, until onion is soft and golden, about 10 minutes.Add garlic and cook, stirring, for 30 seconds.Remove from heat.

5 Layer one-third of potatoes in prepared dish.Sprinkle with salt and pepper, being sparing with the salt and generous with the pepper.Top with half of bacon mixture. Repeat layers, finishing with a layer of potato.

6 Drizzle cream into dish. Scatter Reblochonevenly over potatoes. Bake, uncovered, until bubbly and golden brown, about 25 minutes.Let stand for 10 minutes, then sprinkle with parsley.
SHARE