Gratin of Belgian Endive
Automne 2007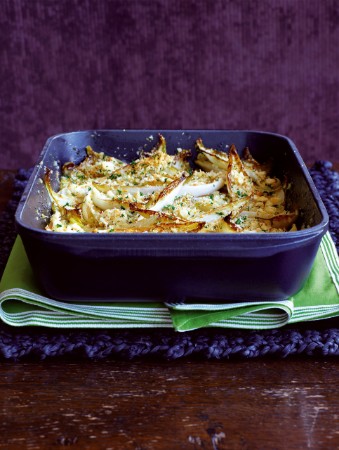 Gratin of Belgian Endive
Automne 2007
BY: Lucy Waverman
When cooked, Belgian endive loses its bitterness and becomes a delightful tasty side dish. Serve this with turkey or pork at a holiday dinner. A touch of orange complements the taste.
6 heads Belgian endive, root end removed
2 tbsp (25 mL) butter
½ cup (125 mL) chicken stock
¼ cup (50 mL) fresh orange juice
Salt and freshly ground pepper
½ cup (125 mL) whipping cream


Topping
1 tbsp (15 mL) butter
1 tsp (5 mL) grated orange rind
1 cup (250 mL) bread crumbs
2 tbsp (25 mL) chopped parsley
1. Preheat oven to 375°F (190°C).

2. Separate endive into leaves. Heat butter in a large skillet over medium-high heat. Add endive and sauté for 3 minutes or until slightly browned. Add chicken stock and orange juice and bring to boil. Cover and simmer for 3 minutes or until leaves are soft.

3. Place leaves in layers in a buttered medium gratin dish, along with remaining liquid, seasoning each layer with salt and pepper as you go. Pour over cream.

4. For topping, heat butter in skillet and add orange rind, breadcrumbs and parsley. Sauté until breadcrumbs have crisped a bit. Sprinkle over endive leaves.

5. Bake for 30 minutes or until cream is bubbling and has reduced a bit.
SHARE