Potato Gratin
Spring 2011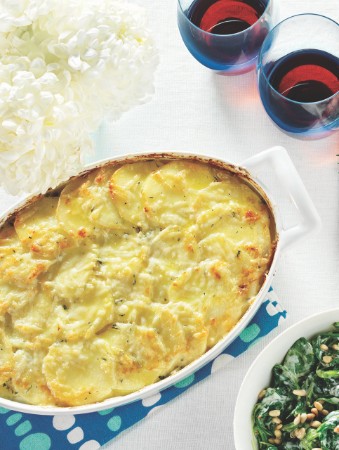 Potato Gratin
Spring 2011
BY: Heather Trim
This is a rich gratin so you don't need a large portion to feel satisfied ed. If you have a mandolin it makes the job of thinly slicing the potatoes much easier. Can be made ahead of time and reheated.
½ cup (125 mL) milk
1 cup (250 mL) whipping cream
4 cloves garlic, sliced
1 tbsp (15 mL) fresh thyme or 1 tsp (5 mL) dried
1½ tsp (7 mL) chopped rosemary
2 lbs (1 kg) Yukon Gold potatoes, peeled and thinly sliced
Salt and freshly ground pepper
3 tbsp (45 mL) butter
½ cup (125 mL) grated Parmesan
1 Preheat oven to 400°F (200°C).

2 Combine milk, cream, garlic, thyme and rosemary in a wide pot over medium heat and bring to a boil. Remove from heat, add potatoes and stir together. Season well with salt and pepper.

3 Use 1 tbsp (15 mL) of butter to grease a gratin dish large enough to hold the potatoes to come three-quarters of the way up. Using a slotted spoon, transfer half of potatoes into gratin dish. Sprinkle with ¼ cup (50 mL) cheese, then add remaining potatoes and pour over liquid, making sure to tuck garlic under potatoes so it doesn't burn. Sprinkle with remaining ¼ cup (50 mL) cheese and dot remaining 2 tbsp (25 mL) of butter on top.

4 Place gratin dish on a baking sheet to catch any drips and bake for 50 minutes to 1 hour or until potatoes are tender and liquid is absorbed.



SHARE