Swiss Potato Vegetable Gratin
Autumn 2002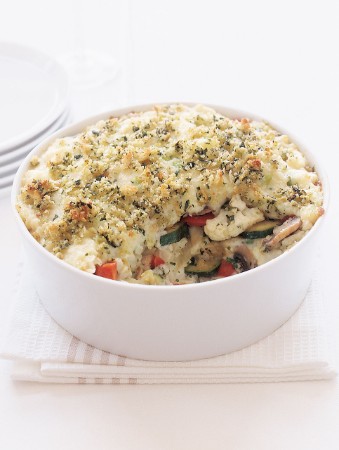 Swiss Potato Vegetable Gratin
Autumn 2002
BY: Sue Tennant, owner Silver Springs Culinary Retreat
Just in time for Thanksgiving, this excellent dish combines potatoes and vegetables in a tasty mélange. You can assemble the dish ahead of time and bake when needed.
Potatoes
6 large baking potatoes
1/3 cup (75 mL) butter
1 1/2 cups (375 mL) shredded Swiss cheese
1/3 cup (75 mL) grated Parmesan cheese
1/2 cup (125 mL) whipping cream
2 tbsp (25 mL) chopped fresh chives or green onion
Kosher salt and freshly ground pepper to taste


Vegetables
1 tbsp (15 mL) vegetable oil
2 tbsp (25 mL) butter
1 medium onion, sliced
8 oz (250 g) mushrooms, sliced
2 cups (500 mL) sliced zucchini
1 red pepper, diced
2 cups (500 mL) diced fennel
2 cups (500 mL) thinly sliced cauliflower florets
1 tsp (5 mL) chopped garlic
1/4 cup (50 mL) chopped fresh parsley
2 tbsp (25 mL) chopped fresh basil
1/4 cup (50 mL) chopped chives


Topping
1 cup (250 mL) fresh bread crumbs
1 tbsp (15 mL) finely chopped parsley
3 tbsp (45 mL) melted butter
1. Preheat oven to 350°F (180°C). Bake potatoes until soft, about 1 to 1 1/2 hours. Cool slightly.
2. Cut potatoes in half and scoop out the potato pulp. Discard skins. In a large bowl, mash the potatoes with masher then whisk in the butter, Swiss cheese and Parmesan cheese. Stir in whipping cream, chives and season well with salt and pepper. Reserve.
3. While potatoes are baking, heat oil and butter in large skillet. Add onion and sauté for 1 minute. Add mushrooms, zucchini, red pepper, fennel and cauliflower. Sauté for 2 minutes, cover skillet and cook 2 to 4 minutes longer or until vegetables are crisp tender.
4. Uncover and stir in garlic, parsley, basil and chives. Season well. Reserve. Spread one-third of the potato mixture in a buttered deep baking dish. Spread half of the vegetables over potatoes. Top with one-third more of the potatoes. Spread remaining vegetables over potatoes and finish with a final potato layer.
5. In a small bowl, combine fresh bread crumbs with parsley and melted butter. Sprinkle evenly over potatoes. Bake for 25 to 30 minutes or until top is browned and filling is hot.
SHARE