Gourmet Potato Skins
Autumn 2006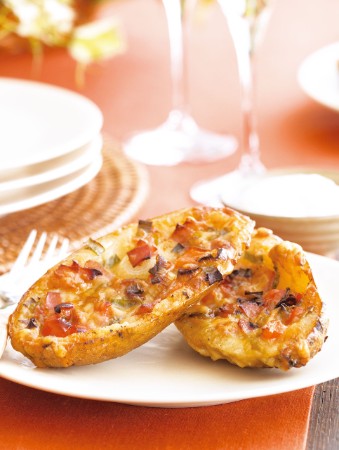 Gourmet Potato Skins
Autumn 2006
BY: Jennifer McLagan
Serve 2 halves as an appetizer or cut the halves in half again and serve as a snack with drinks.
6 russet potatoes
Kosher salt
2 tbsp (25 mL) butter, melted
7 oz (200 g) Gruyère cheese, grated
3 ½ oz (105 g) slice of ham
½ large red pepper
4 green onions, thinly sliced
Salt and freshly ground pepper
1. Preheat the oven to 400ºF (200ºC).

2. Rinse the potatoes and then prick them all over using a fork. Make a bed of salt in the bottom of a baking dish and place the potatoes on top. Bake the potatoes for 1 hour or until tender, turning once.

3. Let the potatoes cool slightly. Cut them in half lengthwise and using a small spoon scoop out insides leaving ¼-inch (5-mm) thickness of potato lining each half. (Use the removed pulp to make mashed potatoes.)

4. Brush the potato halves inside and out with melted butter and place on a baking sheet. Sprinkle the shells with half the grated cheese. Cut the ham into 1 x ¼-inch (2.5cm x 5-mm) batons and dice the red pepper (you should have about ½ cup/ 125 mL). Fill the potatoes with the diced ham, red peppers and green onions and then season with salt and freshly ground black pepper. Top the potatoes with the remaining cheese and bake for 15 minutes or until hot and bubbling.
SHARE