Golden Puffed Potato Puddings
Holiday 2009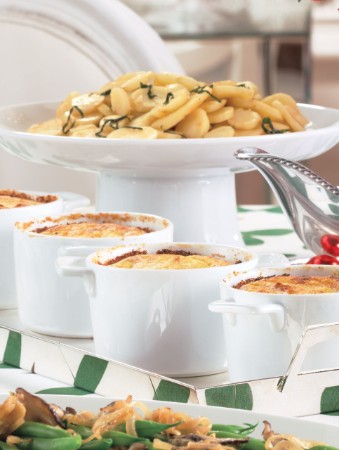 Golden Puffed Potato Puddings
Holiday 2009
BY: Jennifer MacKenzie
Combine two side dish favourites—mashed potatoes and Yorkshire puddings—in one fabulous dish. The best part is there's no need to be draining and mashing potatoes in the midst of your dinner party. All of the messy work is done well ahead of time. Make the puddings a day ahead and simply bake them once the roast comes out of the oven to rest. By the time you'refinished carving and plating the roast, the puddings will be baked to perfection.
2½ lbs (1.25 kg) Yukon Gold potatoesSalt
4 eggs
½ cup (125 mL) milk
½ cup (125 mL) all-purpose flour
½ tsp (2 mL) freshly ground pepper
Butter, softened
¼ cup (50 mL) dry bread crumbs
1. Peel potatoes and cut into about 2-inch (5-cm) chunks. Cover with cold water in a large pot. Bring to a boil over high heat. Add 1 tsp (5 mL) salt, reduce heat and boil gently for about 15 minutes or until fork-tender. Drain and return to pot. Mash with a potato masher until smooth and fluffy or press through a ricer. Let cool until steaming subsides.

2. Meanwhile, whisk together eggs, milk, flour, pepper and 1 tsp (5 mL) salt in a bowl. Stir into potatoes until blended.

3. Generously butter eight ¾-cup (175-mL) ramekins or other ovenproof dishes. Sprinkle with bread crumbs and tap to evenly coat, shaking out excess crumbs. Spoon potato mixture into ramekins, smoothing top. Let stand at room temperature for up to 30 minutes before baking or cover and refrigerate for up to 1 day.

4. To serve, preheat oven to 425°F (220°C).

5. If puddings have been refrigerated, let stand at room temperature for 30 minutes to remove chill. Bake puddings for about 25 minutes or until puffed, golden and hot in the centre. Serve immediately in the ramekins.
SHARE