Golden Beet & Fennel Soup with Fennel Horseradish Cream
Spring 2012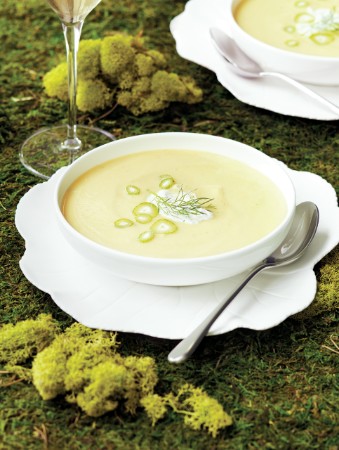 Golden Beet & Fennel Soup with Fennel Horseradish Cream
Spring 2012
BY: Christopher St. Onge
Most of us think of fennel bulbs as a vegetable, but its fronds have a long history of being used as a culinary herb. Here the bulb is used, along with golden beets, in a delicate soup while the fronds are used to lend a subtle licorice flavour to a horseradish-spiked crème fraîche garnish.Look for fennel bulbs that still retain a generous number of the fronds, rather than those that have been completely trimmed.
SOUP
1 tbsp (15 mL) butter
1 onion, chopped
2 cloves garlic, chopped
2 lbs (1 kg) golden beets, peeled and chopped
1 tsp (5 mL) fennel seed, crushed
1 tsp (5 mL) coriander seed, crushed
¼ tsp (1 mL) turmeric
4 cups (1 L) vegetable stock
1 large bulb fennel, with fronds
1 tbsp (15 mL) apple cider vinegar
½ cup (125 mL) whipping cream
Salt and freshly ground pepper

FENNEL HORSERADISH CREAM
½ cup (125 mL) crème fraîche
1 tbsp (15 mL) prepared horseradish
2 tbsp (30 mL) chopped fennel fronds
1 Melt butter in a large saucepan over medium heat. Add onion and garlic. Cook until onions have softened, about 10 minutes.

2 Add beets, fennel seed, coriander seed, turmeric, vegetable stock and 2 cups (500 mL) water. Bring to a boil, reduce heat to medium low, cover and cook for 1 hour.

3 Trim fronds and stalks from fennel bulb and reserve for use in garnish. Cut bulb in half. Trim and discard core. Roughly chop, add to pot, and continue cooking for additional 20 to 25 minutes or until vegetables are tender.

4 Using a blender, process soup in batches until smooth. Return soup to saucepan. Add vinegar and cream. Stir to combine. Season with salt and freshly ground pepper.

5 In a small bowl, combine crème fraîche, horseradish and chopped fennel fronds. Ladle soup into warm bowls and top with a spoonful of the crème fraîche. Garnish with additional fennel fronds and thinly sliced stalk.
SHARE