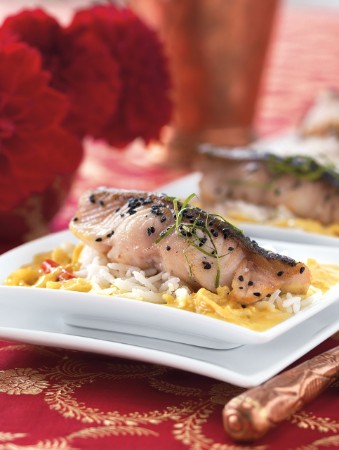 Alaskan Black Cod or sable fish is exceptionally moist with a fine buttery texture and stands up well to this delicious and delicate sauce. Amaya adds a coating of rice flakes with the black mustard seed but we have simplified it by omitting this step. Serve with the short ribs or on its own with basmati rice.
Coconut and Lime Sauce
2 tbsp (25 mL) vegetable oil
1 onion, sliced
6 lime leaves
3 red Thai chillies, cut lengthways in half and seeded
2-inch (5-cm) piece fresh ginger, cut into fine strips
½ tsp (2 mL) ground turmeric
2 cups (500 mL) coconut milk
Salt to taste
2 tbsp (25 mL) vegetable oil
1 tsp (5 mL) black onion seeds or mustard seeds
Four 6-oz (175 g) fillets Alaskan cod
Salt to taste
1. Preheat oven to 450ºF (230ºC).

2. Heat oil in a pan over medium heat. Add onion and sauté for 4 minutes or until softened. Add lime leaves, chillies and ginger and sauté for 1 minute. Add turmeric and stir to coat vegetables. Add coconut milk, bring to a boil, then simmer for 6 to 8 minutes, or until sauce is flavourful and slightly thickened. Season with salt and set aside.

3. Place cod on a dish and rub with 1 tbsp (15 mL) oil and sprinkle with black onion seeds. Heat remaining 1 tbsp (15 mL) oil in a large frying pan, add cod, skin-side down, and sear for 2 to 3 minutes on the skin side, turn over and sear for another 2 to 3 minutes or until top is crisp and golden. Place in the oven and bake for 5 minutes or until fish is opaque throughout and white juices appear. Pour the sauce onto the serving plate and top with fish.
SHARE