Potato Gnocchi with Ricotta, Edamame & Mint
Début de l'été 2018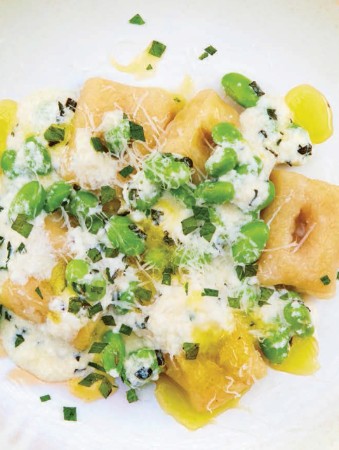 Potato Gnocchi with Ricotta, Edamame & Mint
Début de l'été 2018
BY: Signe Langford
Homemade gnocchi is easier than you might think, but no worries if you're not up to channeling your inner nonna: there are plenty of good ready-made kinds in the store. Not a fan of edamame or fresh soybeans? Use garden-fresh green peas instead! However you make it, this dish is summertime comfort food. Any uncooked leftover gnocchi can be frozen flat in plastic bags for later.
GNOCCHI
2 large baking potatoes (russets work well)
½ cup (125 mL) grated Romano, Parmesan or pecorino cheese; plus more for garnishing
2 free-run eggs, well-beaten
1 tsp (5 mL) finely ground white pepper
1 cup (250 mL), approx., unbleached all-purpose flour, divided

SAUCE
1 tbsp (15 mL) olive oil
2 tbsp (30 mL) butter
1 cup (250 mL) frozen shelled edamame or fresh peas
1 cup (250 mL) ricotta
½ tsp (2 mL) sea salt, or more to taste
½ tsp (2 mL) finely ground white pepper
½ cup (125 mL) 35% cream
¼ cup (60 mL) finely chopped fresh mint; leaves only
1. Preheat oven to 375°F (190°C).

2. Wash potatoes; wrap in foil and bake for about 90 minutes or until it's easy to insert a knife. When done, unwrap, allow to cool, then peel with a paring knife or pull the skin off with fingers.

3. Over a large bowl, run the potatoes through a ricer or food mill or simply use a pastry knife to crumble the potato finely. Don't mash into a ball, just cut up into a crumble.

4. Add the grated Romano, eggs and white pepper; stir gently to combine. Stirring too vigorously will make the dough gummy. When mostly combined, stir in about ⅓ cup (80 mL) flour—a wooden spoon works well for this. Keep adding flour until it's too stiff to stir, then tip out onto a lightly floured work surface.

5. Carry on adding the flour a bit at a time— you may not need it all in the end—and knead the dough until it becomes a lovely smooth ball with the flour well-integrated.

6. Cut dough ball into 4 equal pieces. Using hands, roll the dough into ropes about 1 inch (2.5 cm) in diameter.

7. With a knife or pastry scraper, cut the ropes into pieces about 2 inches (5 cm) long; transfer to a lightly floured platter or cookie sheet. Press a thumbprint into each for a traditional, rustic look. Gnocchi can rest, covered with a tea towel at room temperature until ready to boil.

8. Bring a large pot of generously salted water to a boil over high heat. Once boiling, add the gnocchi and cook until done, about 4 to 5 minutes. They'll bob to the surface at about 2 minutes, but keep cooking for another 2 or 3 for a more pleasing texture. Use a slotted spoon to gently shift any gnocchi that appear to be stuck on the bottom.

9. While gnocchi are boiling, add the oil and butter to a large skillet over medium-high heat. Add the edamame and sauté for about 2 minutes; add the ricotta, salt, pepper and cream; stir to combine and cook until just heated through; another 30 seconds or so. Turn off heat, add the mint, stir to combine.

10. With the slotted spoon, transfer the gnocchi to a colander and allow to drain for 30 seconds to 1 minute.

11. To plate, place 3 to 5 gnocchi, depending on appetite, on a side plate or in a dessert bowl or ramekin and top with a generous dollop of the ricotta and edamame sauce. Garnish with more mint and an extra pinch of grated Romano.

Serve immediately.
Makes about 2 cups (500 mL) sauce and about 30 to 35 gnocchi
SHARE