Gnocchi with Summer Squash, Mint & Chili
Summer 2013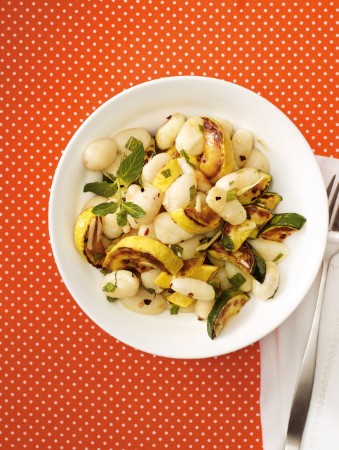 Gnocchi with Summer Squash, Mint & Chili
Summer 2013
BY: Heather Trim
This dish is ideal for vegetarians. For those who aren't vegetarian, add a little bacon, pancetta or shrimp. The gnocchi can be found vacuum-packed in the dry pasta section. While they may not be as good as nonna's, they're pretty delicious and come in many flavours. If adding bacon, pancetta or shrimp, stir-fry in olive oil, remove from pan before cooking zucchini, then return with gnocchi.
2 medium zucchini, preferably 1 yellow and 1 green
2 tbsp (30 mL) olive oil
½ tsp (2 mL) salt
¼ to ½ tsp (1 to 2 mL) hot chili flakes
1 pkg (500 g) potato gnocchi
¼ cup (60 mL) chopped mint or snipped chives
¼ cup (60 mL) finely grated Parmesan
1 Bring a large pot of salted water to a boil. Meanwhile, slice zucchini lengthwise in half, and then slice crosswise on the diagonal. Heat oil in a large frying pan over medium-high heat. Add zucchini, salt and chili flakes (½ tsp/2 mL is spicy). Cook, stirring until zucchini is very tender and a deep golden, about 5 minutes. Turn off heat if cooked before gnocchi is ready.

2 Add gnocchi to boiling water and cook, following package directions, 3 to 4 minutes. Drain well. Add to frying pan, stirring until mixed with zucchini. If needed, reheat. Stir in mint or chives and Parmesan.
SHARE