Glazed Roast Turkey with Savoury Wild and Brown Rice
Temps des Fêtes 2010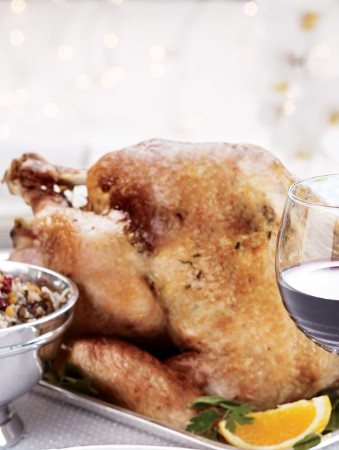 Glazed Roast Turkey with Savoury Wild and Brown Rice
Temps des Fêtes 2010
BY: Lucy Waverman
Enhance your bird inside and out with this recipe for a turkey stuffed under its skin and in its cavity.
WILD AND BROWN RICE STUFFING
1 cup (250 mL) wild rice
1 cup (250 mL) brown rice
5 cups (1.25 L) chicken stock
2 tbsp (25 mL) olive oil
1 tsp (5 mL) chopped garlic
2 cups (500 mL) chopped onions
1/2 cup (125 mL) chopped celery
1 cup (250 mL) carrots
2 cups (500 mL) chopped portobello mushrooms
1 cup (250 mL) dried cranberries
2 tbsp (25 mL) chopped fresh marjoram
2 tbsp (25 mL) chopped fresh tarragon
Salt and freshly ground pepper

SEASONED BUTTER
1/2 cup (125 mL) unsalted butter
2 tsp (10 mL) finely chopped garlic
1 tsp (5 mL) paprika
2 tbsp (25 mL) chopped parsley
2 tbsp (25 mL) chopped fresh tarragon
1 tsp (5 mL) grated lemon rind
Kosher salt and freshly ground pepper
One 14 lb (6.5 kg) turkey
1 Place wild rice, brown rice and chicken stock in a medium pot and bring to boil. Cover, turn heat to low and simmer for 45 minutes or until rice is cooked. Drain off any remaining chicken stock. Set aside to cool.

2 Heat olive oil in a large skillet over medium-low heat. Add garlic, onions, celery and carrots and sauté for 10 minutes or until very soft. Add mushrooms, cranberries, marjoram and tarragon and sauté for 3 minutes more or until mushrooms are juicy. Season with salt and pepper to taste.

3 Combine sautéed vegetables with cooked rice. Adjust seasonings if necessary.

4 Preheat oven to 400°F (200°C).

5 To make seasoned butter, combine unsalted butter, garlic, paprika, parsley, tarragon, lemon rind and season with salt and pepper.

6 Loosen turkey skin over breasts and legs using your fingertips. Reserve 2 tbsp (25 mL) seasoned butter. Stuff remaining butter under skin spreading it all around as best you can.

7 Stuff turkey cavity with some of the stuffing and place remainder in a buttered baking dish. Skewer together turkey cavity and truss turkey. Rub reserved butter over skin.

8 Roast turkey for 15 minutes to the pound (500 g) up to 10 lbs (4.5 kg), then roast for 7 minutes to the lb (500 g) for the remaining weight. Lower heat to 350°F (180°C) after 2 hours. A 14 lb (6.5 kg) turkey will take approximately 3 hours. 
9 Cover dish and bake stuffing alongside turkey for 45 minutes.
10 Remove turkey from oven and let rest for 15 minutes. Spoon stuffing into a baking dish. Carve turkey and serve together.
SHARE