Glazed Carrots and Parsnips with Chives
Holiday 2000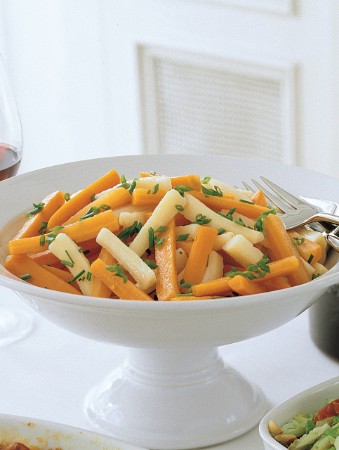 Glazed Carrots and Parsnips with Chives
Holiday 2000
BY: Lucy Waverman
A classic vegetable dish for Christmas, you can use all carrots or add turnips into the mix. Cut vegetables into whatever shape you like, but be aware that the cooking time will change. Make the day before and reheat when needed.
1 lb (500 g) carrots
1 lb (500 g) parsnips
3 tbsp (45 mL) butter or olive oil
1/2 cup (125 mL) orange juice
2 tbsp (25 mL) lemon juice
1/2 cup (125 mL) chicken stock
Salt and freshly ground pepper
2 tbsp (25 mL) chopped chives
1. Cut carrots and parsnips into batons, about the size of French fries, 3-inches (8-cm) long by 1/2-inch (1-cm) thick. Heat butter in skillet on medium heat, add vegetables and sauté for 5 minutes or until vegetables are tinged with brown at the edges.

2. Add orange and lemon juice, stock and pepper. Bring to boil, reduce heat to low, cover pan and simmer for 8 to 10 minutes or until vegetables are cooked. Reduce liquid until syrupy. Season with salt, extra pepper and chives.
SHARE