Glazed Brussels Sprouts with Whisky & Double-Smoked Bacon
Automne 2010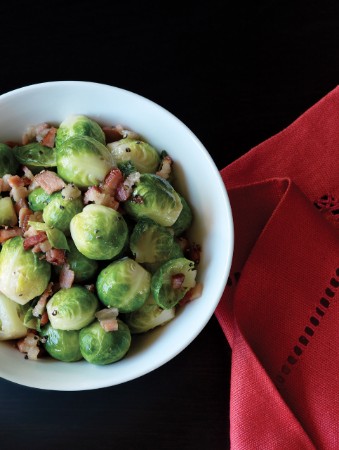 Glazed Brussels Sprouts with Whisky & Double-Smoked Bacon
Automne 2010
BY: Nicole Young
Canadian whisky, double-smoked bacon and maple syrup give these sprouts a smoky, mellow flavour. For a different look, cut the bases off the sprouts when they are cooked and toss the leaves in the glaze.
8 cups (2 L) Brussels sprouts, about 2 lbs (1 kg)
½ cup (125 mL) chopped double-smoked bacon
2 tbsp (25 mL) Canadian whisky
2 tsp (10 mL) maple syrup
1 pinch coarse salt
1 pinch fresh cracked pepper
1. Trim ends off Brussels sprouts; cut an X in base of each, halving any large sprouts. In a large saucepan of boiling salted water, cook sprouts until tender-crisp, about 7 minutes; drain in colander. To make ahead: Chill in cold water; drain again and roll in towel. Refrigerate for up to 1 day. Increase cooking time in glaze, below, to 5 minutes.

2. In same pan, cook bacon over medium-high heat until cooked but not crisp, about 5 minutes. Drain off all but 2 tbsp (25 mL) of the fat; add whisky and maple syrup and cook, stirring, for 30 seconds. Return sprouts to pan; cook, stirring, until coated, about 1 minute. Sprinkle with salt and pepper.


SHARE