Ginger-Citrus-Brandy Brined & Glazed Crown Roast of Pork
Holiday 2017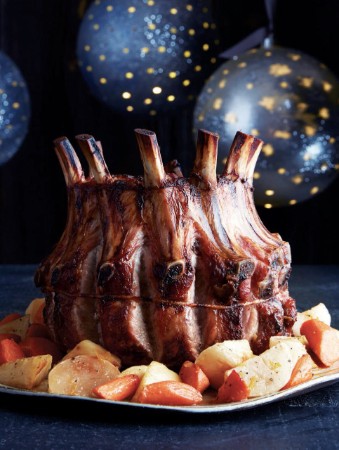 Ginger-Citrus-Brandy Brined & Glazed Crown Roast of Pork
Holiday 2017
BY: Jennifer MacKenzie
A roast fit for royalty to grace your holiday table will have your guests feeling very special indeed. The zesty brine, vibrant with the festive flavours of citrus, ginger and brandy, permeates the meat and keeps it moist and tender through the long, slow roast. Brushing on the glaze during the last part of roasting truly makes this crown glisten. The roasted root vegetables are the ideal finishing touch. Precook the vegetables earlier in the day to leave room in the oven for the roast, then simply reheat them while the roast rests. All you need are mashed potatoes or a rice pilaf and a crispy green salad to complete the meal.
BRINE & GLAZE
¾ cup (175 mL) packed brown sugar, divided
⅓ cup (80 mL) finely chopped fresh ginger
1 tsp (5 mL) cracked black peppercorns
1 tbsp (15 mL) grated orange zest
1 cup (250 mL) freshly squeezed orange juice
1 tbsp (15 mL) grated lemon zest
½ cup (125 mL) freshly squeezed lemon juice
1 cup (250 mL) brandy, divided
½ cup (125 mL) kosher or pickling salt
8 cups (2 L) cold water, divided
1 crown roast of pork (12 to 14 ribs), 8 to 9 lbs (3.5 to 4 kg)

VEGETABLES
6 carrots, about 2 lbs (1 kg), cut into chunks
6 parsnips, about 1 lb (500 g), cut into chunks
6 large white turnips, cut into wedges, or 1¼ lbs (625 g) rutabaga, cut into chunks
¼ cup (60 mL) butter, melted
2 tbsp (30 mL) freshly squeezed orange juice
Salt and freshly ground pepper
1 tsp (5 mL) grated orange zest
2 cups (500 mL) water
1. Combine ½ cup (125 mL) of the brown sugar, ginger, peppercorns, orange zest, orange juice, lemon zest and lemon juice and ¾ cup (175 mL) of the brandy in a medium saucepan. Bring to a boil over medium heat, stirring to dissolve sugar. Boil for 5 minutes or until ginger is softened. Transfer ⅔ cup (150 mL) to a small saucepan for glaze, and set aside.

2. Add salt and 2 cups (500 mL) of the water to remaining brine mixture. Heat over medium-low heat, stirring, until salt is dissolved. Let cool to room temperature.

3. Meanwhile, add remaining ¼ cup (60 mL) sugar and ¼ cup (60 mL) brandy to reserved glaze mixture. Bring to a simmer over medium heat, stirring to dissolve sugar. Reduce heat and boil gently for about 15 minutes or until slightly thickened. Transfer to a jar or bowl; let cool, cover and refrigerate for up to 1 day.

4. Stir 6 cups (1.5 L) remaining water into cooled brine. Pierce pork numerous times all over with a long skewer, especially in dense, thick part of loin and between bones around the outside (this allows brine to permeate the meat). Place pork in a large food-safe bag (a turkey roasting bag works well) and place bag in a container or bowl that fits roast snugly. Pour brine into bag making sure it surrounds the roast. Seal bag and refrigerate for at least 8 hours or for up to 24 hours.

5. For the vegetables, preheat oven to 425°F (220°C) with racks positioned in upper and lower thirds of oven. Line 2 large rimmed baking sheets with parchment paper.

6. Combine carrots, parsnips, turnips, butter, orange juice, 1½ tsp (7 mL) salt and pepper to taste in a large bowl, tossing to coat vegetables well. Divide between prepared baking sheets.

7. Roast vegetables for about 40 minutes, switching pans on racks and stirring vegetables halfway through, until vegetables are browned and tender. Let cool slightly and combine onto 1 baking sheet. Stir in orange zest and let cool. Cover and let stand at room temperature for up to 4 hours, or transfer to an airtight container and then refrigerate for up to 1 day.

8. For the roast, remove pork from brine, discarding brine. Place on a rack in a shallow roasting pan and pat roast dry. Wrap each bone with foil. Refrigerate uncovered for 30 minutes.

9. Meanwhile, preheat oven to 450°F (230°C). Remove glaze from refrigerator and let warm to room temperature.

10. Pat pork dry again, if necessary. Pour about 2 cups (500 mL) water into roasting pan (keeping water level below rack). Roast for 30 minutes.

11. Reduce oven temperature to 350°F (180°C). Roast pork for 1 hour. If liquid is pooling in the centre of the roast, insert the handle of a wooden spoon through the centre to let liquid drain out (you may need to do this a few times while roasting).

12. Brush meaty portions and backs of ribs with half of the glaze and roast for about 1 hour longer, basting with remaining glaze after 20 minutes, or until a thermometer inserted in the thickest part of meat registers 140°F (60°C) for medium or to desired doneness (the temperature will continue to rise slightly while the roast rests). Remove from oven, tent with foil and let rest for 15 minutes.

13. Return vegetables to 1 baking sheet, if necessary. Reheat in oven for about 10 minutes or until hot. Season to taste with salt and pepper.

14. Place roast on a serving platter and arrange the vegetables around roast. Cut the roast between bones into chops, or cut into thinner slices, as desired.
SHARE