Ginger Shrimp Dumplings with Fiery Chili Sauce
Temps des Fêtes 2013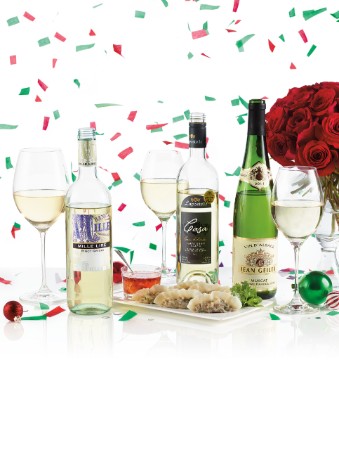 Ginger Shrimp Dumplings with Fiery Chili Sauce
Temps des Fêtes 2013
BY: Heather Trim
These dumplings look complicated but actually couldn't be easier. Dumpling wraps are usually found in the produce department of the grocery store or in Asian food stores. They are delicious and lighter in taste when you simply steam the dumplings. Or once steamed, they can be pan-fried in oil for a crispy dumpling.
1 tbsp (15 mL) cornstarch, plus a sprinkling
½ lb (250 g) peeled raw shrimp, any size
1 egg white
3 tbsp (45 mL) chopped coriander
1 small green onion, coarsely chopped, about ¼ cup (60 mL)
2 tsp (10 mL) soy sauce
1½ tsp (7 mL) sesame oil
1 tsp (5 mL) hot Chinese chili garlic sauce
1 tsp (5 mL) finely grated fresh ginger
1 tsp (5 mL) lime peel
30 round dumpling wrappers

DIPPING SAUCE
1 cup (250 mL) rice vinegar
¾ cup (175 mL) granulated sugar
2 tbsp (30 mL) hot Chinese chili garlic sauce
2 tbsp (30 mL) finely chopped coriander
1 Lightly sprinkle a baking sheet with cornstarch. Using paper towels, squeeze shrimp dry. Place in food processor along with 1 tbsp (15 mL) cornstarch, egg white, coriander, onion, soy sauce, sesame oil, chili garlic sauce, ginger and lime peel. Pulse about 10…times just until the shrimp are in small bits.

2 Working with 3 or 4 dumpling wrappers at a time (keep remaining covered), brush outside edges with water (or use your finger). Place 1½ tsp (7 mL) of mixture in centre of wrapper. Fold in half, squeezing out air, then seal edges together. Pleat edges to further seal tightly.

3 Place on baking sheet, gently pressing to flatten base. Repeat with remaining wrappers. When they are all filled, freeze them. Once they are frozen, dust off cornstarch and place in an airtight container or freezer bag for up to 1 month.

4 For dipping sauce, place vinegar and sugar in a small saucepan set over high heat. Stir. Bring to a boil, reduce heat, and simmer until mixture reduces to 1 cup (250 mL), about 5 minutes. Cool. Stir in chili garlic sauce and coriander. Sauce can be prepared several days ahead, covered and refrigerated until ready to use or freeze.

5 To serve, thaw sauce, but don't thaw dumplings. Place dumplings, side by side, in a large nonstick frying pan. Add enough water to come about halfway up the dumplings. Cover tightly and cook until slightly translucent and shrimp are fully cooked, about 6 minutes. Serve with sauce.
Makes about 30 dumplings with 1 cup (250 mL) sauce
SHARE