Ginger & Blueberry Skillet Cobbler
Summer 2015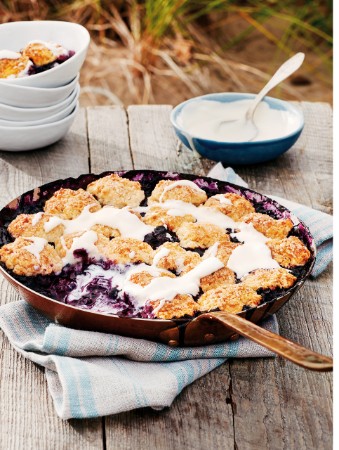 Ginger & Blueberry Skillet Cobbler
Summer 2015
BY: Christopher St. Onge
This beauty can be assembled ahead and held in the fridge until you're ready to slip it onto the grill midway through dinner. If you're lucky enough to be making the cobbler with wild blueberries, decrease the amount of cornstarch to 3 tbsp (45 mL). Don't sweat it if you don't have the right skillet—a 9 x 13‑inch (3.5 L) metal baking pan can be used as a substitute.
8 cups (2 L) blueberries
¾ cup (175 mL) demerara sugar
¼ cup (60 mL) cornstarch
¼ tsp (1 mL) allspice
¼ tsp (1 mL) cinnamon
2 cups (500 mL) all-purpose flour
½ tsp (2 mL) salt
2 tsp (10 mL) baking powder
½ cup (125 mL), 1 stick, cold butter, cut into chunks
⅓ cup (80 mL) finely chopped candied ginger
1 cup (250 mL) cold whipping cream, plus extra for brushing
2 tbsp (30 mL) white sanding sugar
2 tbsp (30 mL) maple sugar
1 In a 12-inch (30-cm) heatproof skillet, at least 2 inches (5 cm) deep, combine blueberries, demerara sugar, cornstarch, allspice and cinnamon; gently toss to combine; level and set aside.

2 Add flour, salt and baking powder to the bowl of a food processor; pulse to blend. Add butter and process until mixture resembles coarse meal. Turn out into a medium bowl; stir in ginger. Pour 1/2 cup (125 mL) cream over and stir until just combined. Gather dough with your hands and knead once or twice to bring together.

3 Tear an approximately 2-tbsp (30-mL) piece of dough and pat into a rough round about ½ inch (1 cm) thick. Place on top of blueberry mixture about ½ inch (1 cm) from edge of skillet. Repeat with remaining dough, spacing the biscuits equidistant from one another; blueberries will not be completely covered. (Cobbler may be prepared to this point and held in refrigerator for 6 hours.) Lightly brush tops of biscuits with a little cream and sprinkle sanding sugar over biscuits.

4 Light one side only of gas grill, turn to medium, close lid and bring to 375°F (190°C).

5 Place skillet on side of grill that is off, close lid and bake for 50 to 55 minutes or until blueberries are bubbling and biscuits are golden. Remove from heat and let stand for 15 minutes before serving.

6 Meanwhile, combine maple sugar and remaining ½ cup (125 mL) cream; whip only until sugar is dissolved and cream is lightened and soft (before soft peaks form).

7 Divide between 10 small bowls and drizzle each with an equal amount of cream.
SHARE