Ghoulish Greens Soup
Autumn 2008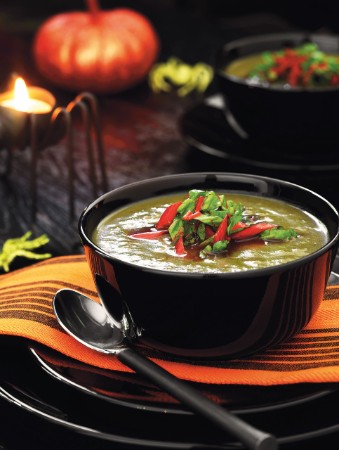 Ghoulish Greens Soup
Autumn 2008
BY: Jennifer MacKenzie
It looks like something a ghoul would prepare but this fresh-tasting soup is a pleasant start to a spooky meal. The red Swiss chard provides a deep, dark green colour and with its deep red veins it does look mysterious as a garnish. The soup can be prepared ahead and refrigerated for up to 1 day. It is best to shred the chard leaves for garnish the day you plan to serve the soup. For a less ghoulish appearance, you can substitute regular Swiss chard and use spinach as the garnish.
10 leaves and stalks red Swiss chard (about ½ bunch)
2 tbsp (25 mL) butter or vegetable oil
2 leeks, white and light green part only, chopped
½ tsp (2 mL) salt
¼ tsp (1 mL) freshly ground pepper
1 large oblong baking or all-purpose potato, peeled and diced
2 cups (500 mL) vegetable or chicken stock
2 cups (500 mL) water (approx.)
4 cups (1 L) lightly packed spinach, trimmed, about 4 oz (125 g)
1. Separate leaves from stalks of Swiss chard. Chop stalks to make about 1 cup (250 mL) and set aside. Stack a couple of the most tender leaves and cut into very fine shreds to make about ½ cup (125 mL) for garnish. Wrap in a paper towel and place in a plastic bag until serving. Coarsely chop remaining leaves to make about 1½ cups (375 mL) and set aside separately from stalks.

2. Melt butter in a large pot over medium heat. Add leeks, salt and pepper and cook, stirring, until softened, but not browned, about 5 minutes. Add potato, stock and water and bring to a boil. Reduce heat to medium-low, cover and boil gently for about 10 minutes or until potatoes are slightly softened.

3. Stir in chopped chard stalks, cover and boil gently, stirring often, for about 10 minutes or until potatoes are tender. Stir in the chopped chard leaves and boil gently, for 5 minutes or until leaves are tender. Stir in spinach just until wilted. Remove from heat.

4. Using an immersion blender in pot or transfering soup in batches to an upright blender, purée soup until very smooth. Return to pot if necessary.

5. Reheat over medium heat until steaming. Thin with more water, if necessary, to desired consistency. Season to taste with salt. Ladle into warmed bowls and float shredded Swiss chard leaves on top of each serving.
SHARE